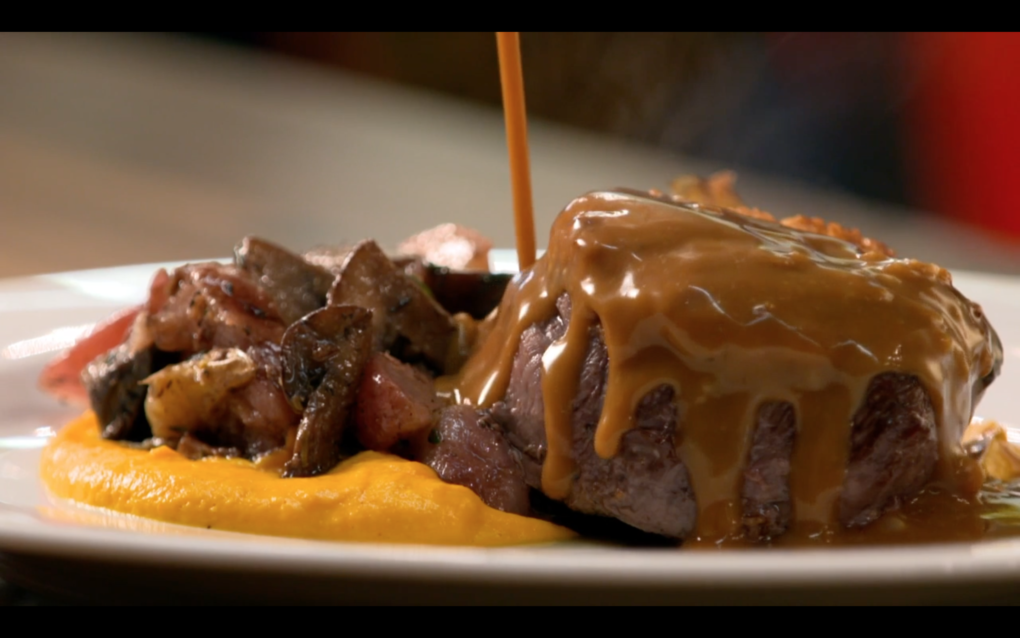 Miso-Crusted Filet Mignon – As Seen on Restaurant: Impossible
From the episode, "Helping Our Own"
SERVES 4
YOU'LL NEED
FOR THE FILET
1 stick butter, room temperature
4 oz miso paste
4 oz panko bread crumbs
4 center cut filet mignon (six oz each)
16 fingerling potatoes, roasted and halved
16 baby radishes, roasted and halved
8 red beets, roasted and quartered
12 oz saki demi glace
FOR THE CAULIFLOWER AND CARROT PUREE
4 tbsp butter
1 medium white onion, diced
2 tbsp ginger, peeled and minced
2 cups cauliflower, cut into florets
4 carrots, peeled and diced
1 cup heavy cream
½ cup milk
FOR THE SAKI DEMI GLACE
2 tbsp grapeseed oil
3 shallots, chopped
1 medium white onion, chopped
2 cloves garlic, sliced
2 cups sweet saki
1 bunch thyme
2 bay leaves
2 qts beef stock
4 tbsp butter
1 tbsp heavy cream
MAKE IT
STEAK
1) Preheat oven to 400 degrees.
2) In a large mixing bowl using a rubber spatula, or stand mixer fitted with paddle attachment, add room temperature butter and miso. Mix together until smooth.
3) Add panko bread crumbs and incorporate. Mixture should be soft but able to be handled.
4) Season filets with salt and pepper and place in a large sauté pan over high heat. Sear on all sides.
5) Form miso mixture into a small 2 oz. balls and place on top of already seared steak.
6) Place steak in preheated oven until it reaches an internal temperature 135°.
CAULIFLOWER AND CARROT PUREE
1) In a medium sauce pot over medium-high heat, add butter and onion and allow to sweat, making sure not to get any color on them.
2) The onion should be cooked through after about 8 minutes. Next, add ginger and allow to sweat for another 3 minutes.
3) Add cauliflower and carrots and allow to cook for another 12 minutes, making sure not to get any color on them.
4) Add heavy cream and milk. Bring to a boil. Season with salt and pepper.
5) Using a blender, puree until mixture is smooth.
SAKI DEMI GLACE
1) In a medium sauce pot over medium-high heat add grapeseed oil, shallots, and onions. Allow to cook over medium heat for 5 minutes. Onions should be light brown in color.
2) Add garlic and cook for another 2 minutes. Garlic should not get any color.
3) Deglaze pan with saki. Stir and lightly scrape any fond from the bottom of the pan. Allow saki to reduce by half.
4) Add thyme and bay leaves. Add beef stock and bring to a boil. Allow to boil for 3 minutes, then drop mixture to a low simmer and allow to reduce by half.
5) Strain sauce. Discard onion mixture.
6) Using a whisk, add butter and heavy cream to strained saki demi mixture.
PLATING
1) On a plate place cauliflower and carrot puree, then top with roasted potatoes, radish, and beets.
2) Place steak on top of puree. Finish with saki demi glace.