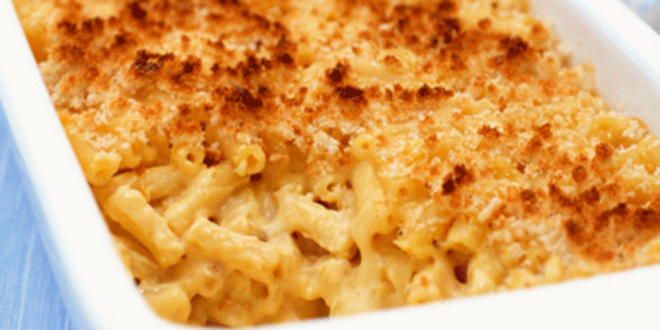 Time: 20 min
Yield: 4 servings 
Ingredients
1 (16-ounce) package elbow macaroni
1/2 cup butter (1 stick)
1 cup chopped white onion
1/2 cup all-purpose flour, or as needed
1/2 to 1 cup chicken broth, as needed
1/2 cup heavy cream
2 cups shredded yellow Cheddar
Salt
White pepper
1/4 cup Cheddar crackers, crushed, with a few left whole for garnish (recommended: Pepperidge Farm Goldfish)
Directions
Boil the pasta until al dente and drain well so that you don't have excess cooking water which will dilute the flavor.
While the pasta is cooking, preheat the oven to 350 degrees F.

Melt the butter in a large saucepan over medium heat, and add the onion, cooking until translucent.
Add the flour a little at a time to make a roux. Do this gradually because some batches of flour absorb more than others and you may not need as much. Incorporate enough of the chicken broth a little at a time to form a smooth sauce.
Simmer for a least 10 minutes to allow the flour to "cook out."
Add the heavy cream and Cheddar, then season with salt and white pepper, to taste.
Then fold in as much pasta as you need to acquire the right consistency for macaroni and cheese.
Transfer to a 3-quart baking dish and sprinkle with crushed crackers.
Heat in oven for a few minutes to toast the crackers. Garnish with the reserved whole crackers and serve.