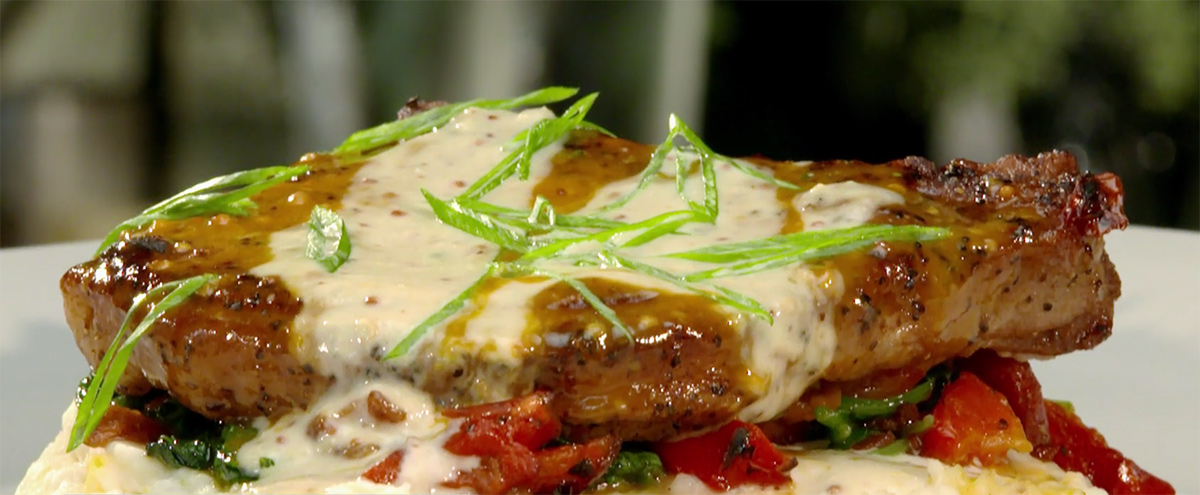 Drunken Pork Chop – As Seen on Restaurant: Impossible
Print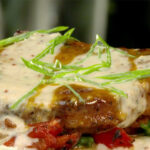 Drunken Pork Chop – As Seen on Restaurant: Impossible
---
Author:

Total Time:

45 minutes

Yield:

SERVES 4
Description
From the episode, "Driven to Tears"
---
YOU'LL NEED
FOR THE GORGONZOLA SAUCE
1 large white onion, sliced
¼ lbs butter
2 cups heavy cream
12 oz gorgonzola cheese
Salt and pepper
FOR THE WHISKEY MUSTARD GLAZE
2 cups whole grain mustard
1 cup Dijon mustard
¼ cup Irish whiskey
FOR THE CHEESY MASHED POTATOES
4 large russet potatoes, peeled and diced
2 cups heavy cream
½ lb butter
3 oz cheddar cheese, shredded
FOR THE PORK CHOP
4 pork chops, 6 oz each
2 tsp grapeseed oil
1 cup bacon, diced
1 large white onion, diced
2 cups sweet chili sauce
4 cups baby spinach
¼ cup scallions, sliced
---
Instructions
MAKE IT
GORGONZOLA CREAM SAUCE
1) In a sauce pan over medium heat, add butter and onions. Cook for about 12 minutes, stirring occasionally.The onions should be clear in color and cooked through.
2) Add heavy cream and bring to a boil.
3) Once boiling, remove the mixture from heat. Using a hand blender, incorporate gorgonzola cheese and blend until smooth. Season with salt and pepper.
WHISKEY MUSTARD GLAZE
1) In a mixing bowl add whole grain mustard, Dijon mustard, and whisky. Whisk together. Season with salt and pepper.
CHEESY MASHED POTATOES
1) In a large pot add diced potatoes and cold water. Season the pot with salt (about 2 tbsp).
2) Bring the potatoes to a boil. After 5 minutes, drop the pot to a simmer. Cook the potatoes for an additional 10 minutes or until the potatoes are cooked through.
3) Strain the potatoes into a colander and set aside.
4) In a small sauce pot add butter and heavy cream. Bring to a hard simmer.
5) Pass the potatoes through a ricer using a spoon. Incorporate the heavy cream and butter mixture.
6) Add the grated cheese. Season with salt and pepper.
PLATING
1) Season the pork chop with salt and pepper.
2) In a sauce pan over medium high heat, add grapeseed oil and pork chop.
3) Cook the pork chop for about 5 minutes on each side.
4) In a separate pan over medium heat, add bacon and cook for about 4 minutes. The bacon should be light brown and crispy.
5) Add onions and cook for about 3 minutes, until the onions are cooked through and translucent.
6) Remove the onion bacon mixture from the heat and add spinach and sweet chili sauce.
7) Season with salt and pepper.
8) Place a scoop of mashed potatoes on the plate.
9) Coat the pork chop with the whiskey mustard glaze.
10) Top the mashed potatoes with spinach and bacon mixture.
11) Place the pork chop on top of the spinach mixture.
12) Finish the pork chop with the gorgonzola sauce and sliced scallions.
Prep Time:

15 minutes

Cook Time:

30 minutes

Category:

Entree

Cuisine:

American
Keywords: Entree, Pork Chop, Restaurant: Impossible, Gorgonzola Sauce