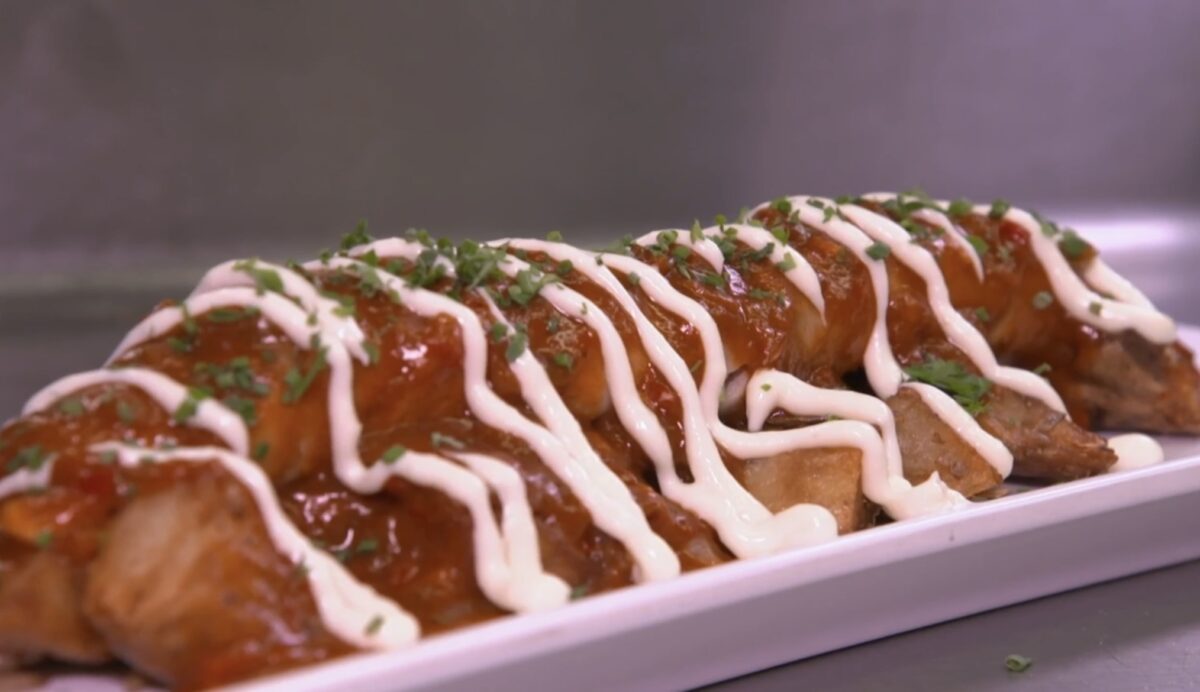 CURRY WURST – As Seen on Restaurant: Impossible
From the episode, "Out with Old, In with New"
SERVES 4
YOU'LL NEED
FOR THE CURRY SAUCE
4 tbsp grapeseed oil
10 fingerling potatoes, quartered
1 white onion, diced
2 red bell peppers, diced
3 cloves garlic, diced
1 tbsp tomato paste
2 tbsp curry powder
2 tsp paprika
4 oz white wine
12 oz tomato puree
2 tbsp cider vinegar
Salt and pepper, to taste
GARLI AIOLI
1 cup mayonnaise
2 cloves garlic, minced
1 tbsp lemon juice
Salt and pepper, to taste
FOR THE BRATWURST
4 Bratwurst, fully cooked
4 tbsp scallions, chopped
2 tsp grapeseed oil
MAKE IT
CURRY SAUCE
1) Pre-heat oven to 400 degrees.
2) In a mixing bowl add fingerling potatoes and 2 tbsp grapeseed oil.
3) Season the potatoes with salt and pepper and place in roasting pan, bake about 15 minutes or until potatoes are cooked through.
4) In sauce pot add the rest of the grapeseed oil, onions, and peppers.
5) Over medium-high heat, allow peppers and onions to sweat, this should take approximately 3 minutes.
6) Add garlic and cook for another 2 minutes.
7) Add tomato paste, curry powder, and paprika and cook for another 3 minutes.
8) Using a wooden spoon, deglaze the pan with white wine; cook for another 5 minutes.
9) Add tomato puree, cider vinegar, and sugar. Bring mixture to light simmer, add cooked fingerling potatoes. Season with salt and pepper and set aside.
GARLI AIOLI
1) In a large mixing bowl add mayonnaise, garlic, and lemon juice.
2) Mix well. Season with salt and pepper.
BRATWURST
1) In a large skillet over medium high heat add bratwurst and sear on both sides for about 3 minutes. The bratwurst should be light brown in color.
FINISH & PLATE
1) Place a large scoop of the curry sauce in the center of the plate.
2) Place bratwurst on top of the curry sauce. Top bratwurst garlic aioli and scallions.