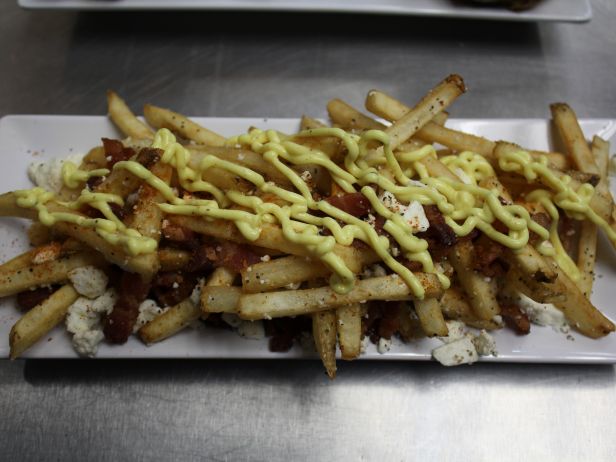 Curry Fries with Bacon and Feta Cheese
Total Time:
35 min
Prep:
15 min
Cook:
20 min
Yield:1 serving
Level:Intermediate
Ingredients
3 strips bacon, diced (about 3 tablespoons)
3 tablespoons mayonnaise
2 teaspoons yellow Indian curry powder
Juice of 1/2 lime
Oil, for frying
1 cup French fries
Large pinch of blackening spice
Kosher salt and freshly ground black pepper
1/2 ounce feta, crumbled
Directions
Special equipment: a squeeze bottle and deep fryer or large pot
Preheat the oven to 350 degrees F. Spread the bacon on a rimmed baking sheet and bake until crispy, 10 to 15 minutes.
Mix the mayonnaise, curry powder and lime juice in a bowl and transfer to a squeeze bottle.
Heat the oil in a deep fryer or large pot. Fry the French fries until crisp and cooked through. Transfer to a plate. Season with the blackening spice, salt and pepper.
Drizzle the curry mayonnaise over the top. Garnish with the crumbled feta and bacon.