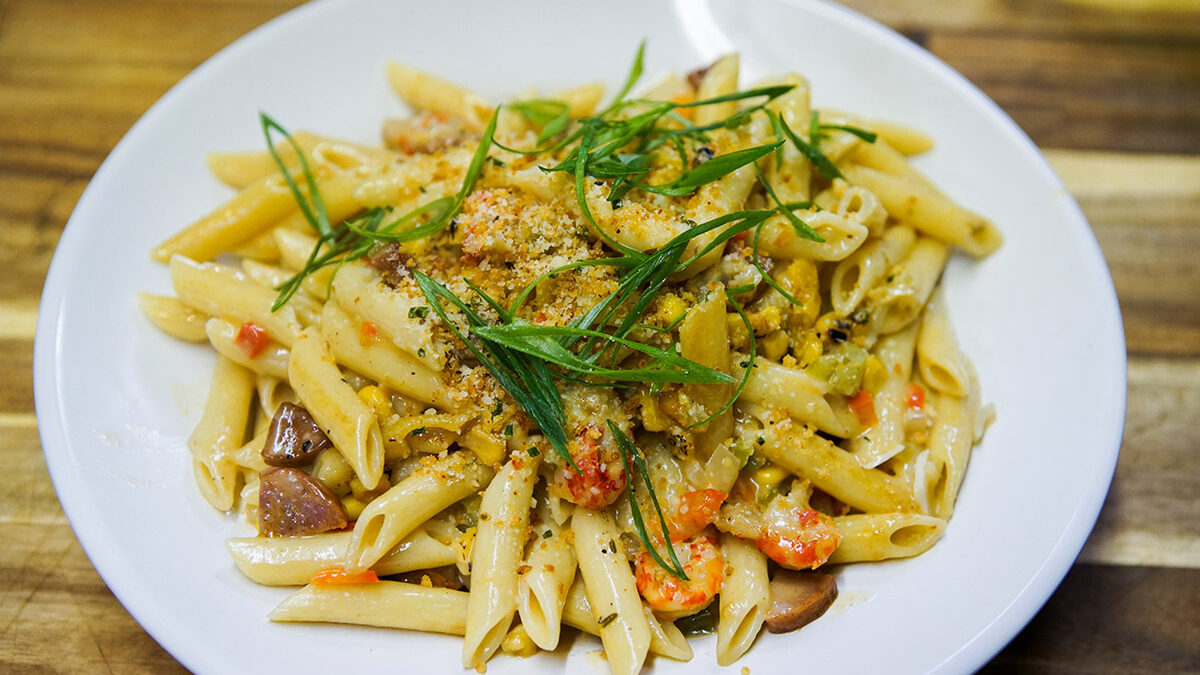 Crawfish Alfredo – As Seen on Restaurant: Impossible
From the episode, "Schooling a Teacher"
SERVES 4
YOU'LL NEED
1 lb penne pasta (cooked according to package)
½ lb unsalted butter
1 red pepper, diced
1 white onion, diced
3 ribs celery, diced
1 cup frozen corn, off the cob
5 garlic cloves, minced
2 tbsp all-purpose flour
1 cup heavy cream
2 lbs crawfish tails
2 tbsp Cajun spice
3 tbsp flat leaf parsley, chopped
3 tbsp breadcrumbs
1 bunch scallions, sliced
2 tbsp Parmesan cheese, grated
MAKE IT
1) In a large skillet over medium heat melt butter.
2) Add red peppers, onions, celery, corn and garlic. Allow to cook for about 4 minutes.
3) Whisk in flour, creating a roux. Cook for another 4 minutes.
4) Add heavy cream and allow to cook until the flour is cooked out of the roux, about 5 minutes.
5) Add crawfish, Cajun spice, and flat leaf parsley.
6) Add cooked pasta and toss through.
7) Place pasta in a large bowl.
8) Finish with grated Parmesan cheese and scallions.