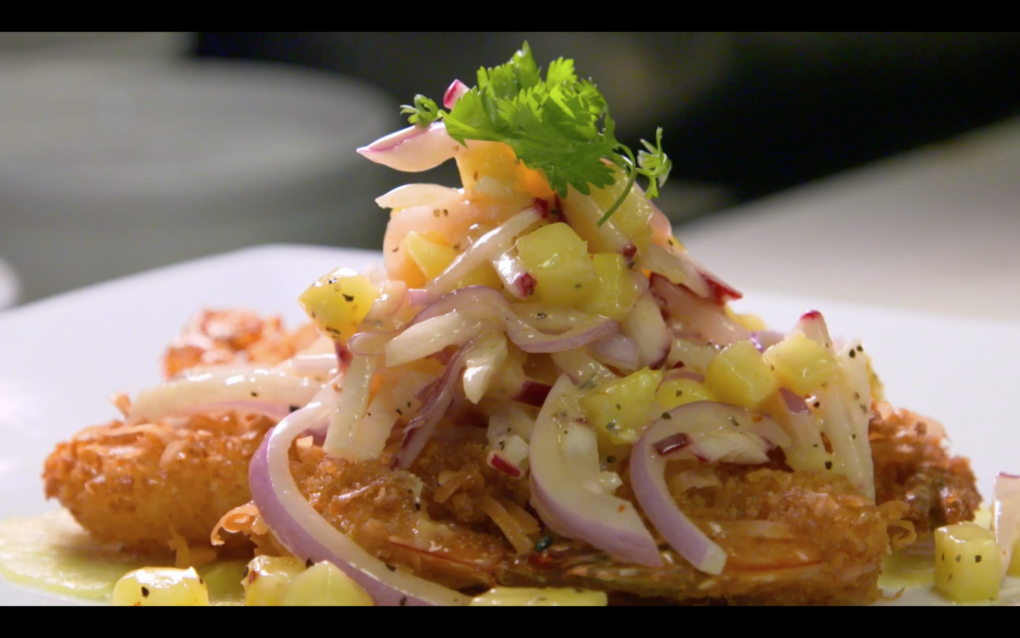 Coconut Shrimp—As Seen on Restaurant: Impossible
From the episode, "New Roles, New Results"
SERVES 5
YOU'LL NEED
FOR THE SHRIMP
3 lbs 16/20* shrimp (*Denotes size of 16-20 shrimp per pound)
3 cups all-purpose flour
3 eggs, beaten
3 cups panko bread crumbs
1 cup shredded coconut, unsweetened
¼ pineapple, thinly sliced
Vegetable oil, enough for deep frying
FOR THE JICAMA SLAW
1 pineapple, peeled and medium diced
2 jicama roots, peeled and julienned
10 cello radishes, medium diced
1 red onion, julienned
5 scallions, sliced
1 bunch cilantro, sliced
FOR THE TOGARASHI VINAIGRETTE
½ cup rice wine vinegar
1 tbsp smoked paprika
¼ cup honey
2 thumbs ginger, peeled and minced
2 cloves garlic, minced
3 shallots, minced
2 tbsp sesame oil
1 tsp Dijon mustard
1½ cups grapeseed oil
MAKE IT
SHRIMP
1) In a mixing bowl, add panko bread crumbs and coconut. Mix together.
2) Place shrimp in flour. Then add eggs and the panko bread crumb/coconut mixture.
3) Fry shrimp in a 350° fryer for 2½ to 3 minutes until shrimp are cooked through. Shrimp should be golden brown in color.
TOGARASHI VINAIGRETTE
1) In large mixing bowl, add rice wine vinegar, smoked paprika, honey, and Dijon mustard.
2) Using a hand blender or whisk, slowly incorporate grapeseed and sesame oil.
3) Finish with ginger, shallots, garlic, salt, and pepper.
JICAMA SLAW
1) In a large mixing bowl add jicama, pineapple, red onions,
scallions, and cilantro.
2) Dress with vinaigrette. Season with salt and pepper.