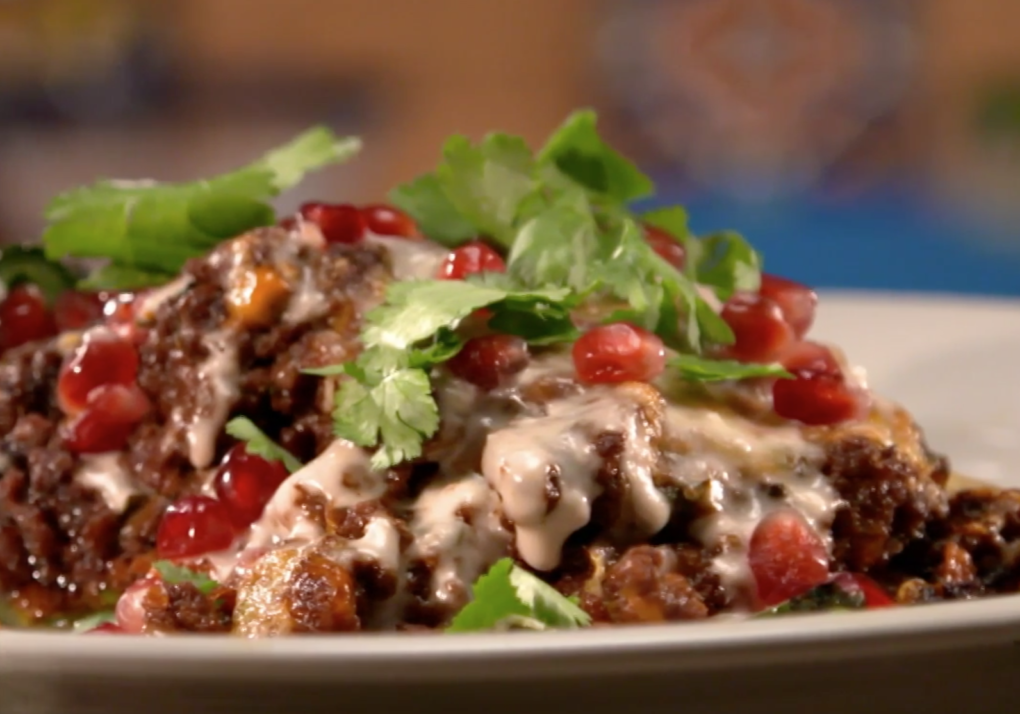 Chiles en Nogada – As Seen on Restaurant: Impossible
From the episode, "Fixing a Family in Houston"
SERVES 4
FOR THE CHILES
8 Poblano peppers, roasted, peeled, and seeded)
1 onion, diced
3 cloves, garlic sliced
1 jalapeno pepper, seeded and diced
2 lbs ground pork
12 oz tomato puree
8 oz chicken broth
1 sprig thyme
1 sprig oregano
5 sprigs cilantro
1 cup corn pulled off the cob
1 tbsp golden raisins
1 tbsp ground cumin
1 tsp ground cinnamon
3 tbsp pomegranate seeds
FOR THE WALNUT CREAM
3 cups milk
1 cup sour cream
1 cup queso fresco
1 tsp chili powder
½ cup walnuts, toasted
MAKE IT
WALNUT CREAM
1) In a large sauce pot, add milk and sour cream.
2) Using a whisk, incorporate and bring mixture to a boil.
3) Add queso fresco and chili powder mix, allowing cheese to melt. Next, add walnuts and allow to simmer for 10 minutes.
4) Puree mixture in a food processor or blender until smooth.
CHILES
1) In a medium pan over medium heat, sweat out onion, garlic, and jalapeno until translucent or just cooked through.
2) Add ground pork and allow to brown lightly, about 6 minutes. Stir continuously.
3) Deglaze pan with tomato puree. Add thyme, oregano, chicken broth, and 2 sprigs of cilantro.
4) Add raisins, corn, cumin, and cinnamon. Season with salt and pepper.
5) Place ground pork mixture inside or on top of peeled and seeded Poblano chili. Finish with ground pork mixture. Top with walnut cream, pomegranate seeds, and 2 cilantro sprigs.