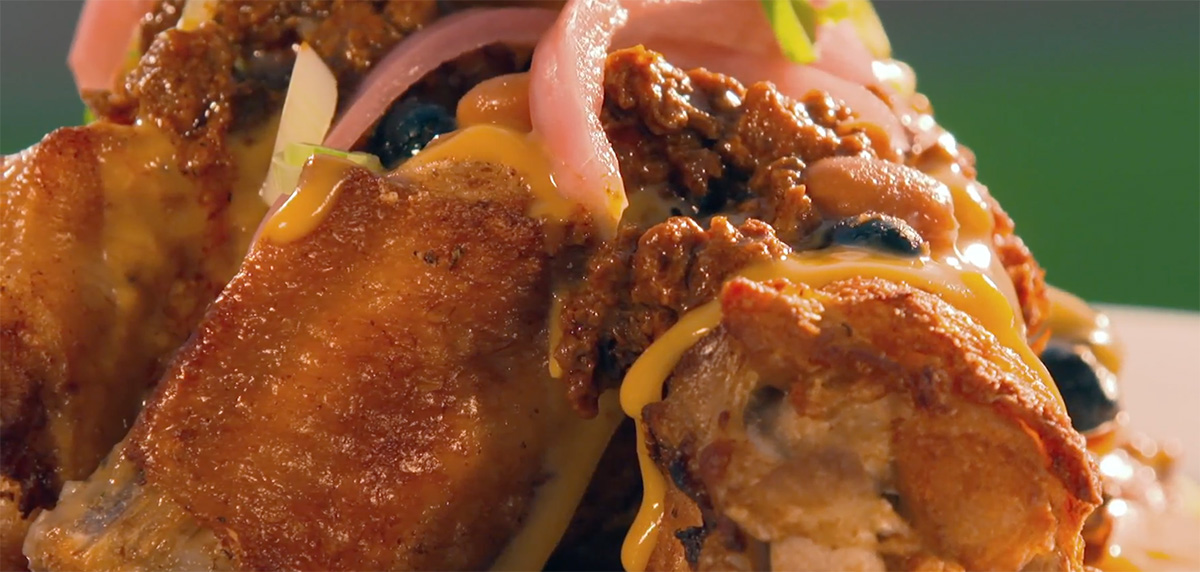 Chicken Wing "Nachos" – As Seen on Dinner: Impossible
From the episode, "Seventh Inning Stress"
SERVES 4
YOU'LL NEED
FOR THE CHORIZO CHILI
1 lb ground chorizo sausage
½ lb ground beef
1 onion, medium diced
2 garlic cloves, minced
1 jalapeno pepper, seeded and minced
½ cup chicken broth
1 ½ cups canned crushed tomatoes
1 cup canned diced tomatoes
1 tbsp chili powder
1 dash cayenne pepper
1 tsp cumin powder
1 tbsp paprika (smoked or regular)
1 tsp mustard powder
Salt and pepper, to taste
FOR THE WINGS
20 raw chicken wings
1 tsp kosher salt
½ tsp black pepper
2 tbsp brown sugar
2 tsp fajita seasoning
FOR THE PICKLED ONIONS
1 red onion, thin julienned
1 cup rice wine vinegar
¼ cup water
2 tbsp sugar
FOR PLATING
½ cup canned black beans, drained
½ cup canned pinto beans, drained
2 tbsp fresh cilantro, chopped
¾ cup shredded Monterey Jack cheese
¾ cup queso cheese sauce (store bought)
1 bunch fresh scallions, chopped
MAKE IT
CHORIZO CHILI
1) In a large pot or roasting pan over medium heat, add ground chorizo sausage and ground beef.
2) Stir the meat as it cooks, breaking it up.
3) After meat is almost fully cooked, strain off excess fat and add the onion, garlic, jalapeno and continue to cook for 6 minutes.
4) Add chicken broth, crushed tomatoes, diced tomatoes and stir well.
5) Add all the spices and stir well.
6) Bring to a slow simmer, turn to low heat and allow to slowly simmer for 15 minutes.
7) Seasoning with salt and pepper, to taste.
WINGS
1) While the chili is simmering, Preheat oven to 350 degrees.
2) Place the raw wings in a mixing bowl and toss with the salt, pepper, brown sugar, and fajita seasoning.
3) Place the seasoned wings on a sheet pan and roast in the oven for 20 to 25 minutes or until internal temperature of the wings is 165 degrees F and wings are crispy. Remove from the oven and set aside.
PICKLED ONIONS
1) In a sauce pot over medium high heat, add the rice wine vinegar, water, and sugar and bring to a simmer.
2) Remove the pickling liquid from the heat and add the raw julienned red onions and allow the onions to pickle in the liquid for 1 hour. Remove the pickled onions from the liquid and discard the liquid.
PLATING
1) In a mixing bowl, toss the black beans, pinto beans, and chopped cilantro together and season with salt and pepper, to taste.
2) In a small sauce pot, heat the queso cheese sauce till warm.
3) Place the cooked seasoned wings onto an oven safe platter.
4) Top the cooked wings with the chorizo chili, the bean mixture, then shredded Monterey jack cheese.
5) Place in the oven at 350 degrees F for 5 minutes until the cheese is melted.
6) Remove the dressed wings from the oven and drizzle the warm queso cheese sauce over the top and garnish the chicken wing nachos with the pickled onions and scallions.