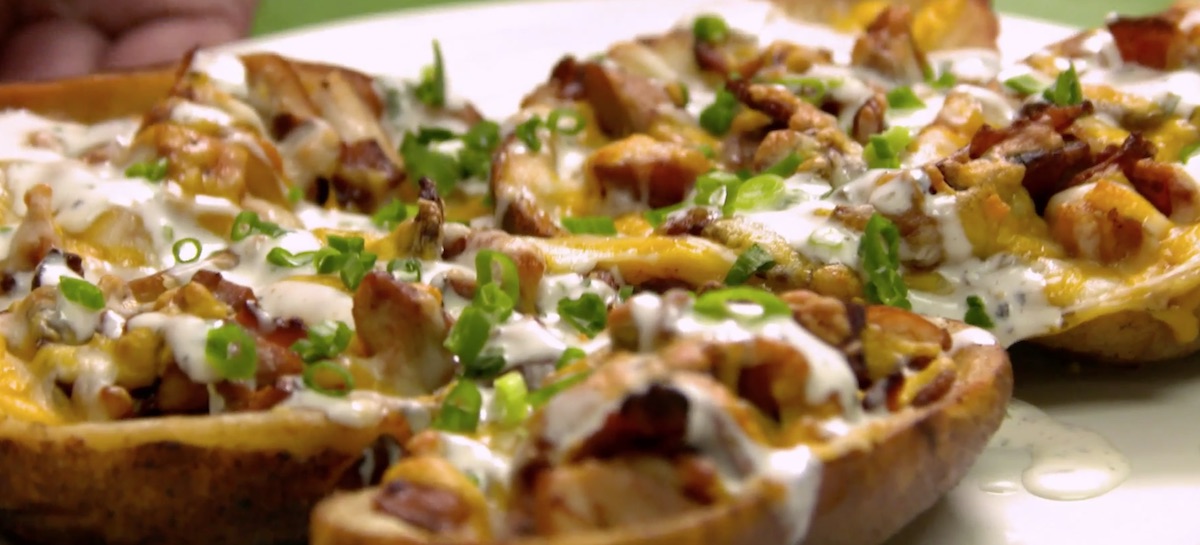 Chicken Stuffed Potato Skins – As Seen on Restaurant: Impossible
From the episode, "Back on Track in Glendora"
SERVES 4
YOU'LL NEED
FOR THE RANCH DRESSING
¼ cup sour cream
¼ cup heavy cream
½ cup mayonnaise
1 tsp red wine vinegar
1 tbsp dill chopped
1 tbsp chives chopped
1 tsp black pepper
FOR THE POTATO SKINS
3 strips bacon, diced and crisped
3 chicken thighs, diced
1 onion, diced
1 tbsp smoked paprika
1 cup shredded cheddar cheese
2 russet potatoes, baked, cut in half, and hollowed out
MAKE IT
RANCH DRESSING
1) In a large mixing bowl, add sour cream, heavy cream, mayonnaise, and red wine vinegar. Mix well.
2) Add dill, chives, salt, and black pepper and mix again.
POTATO SKINS
1) In a medium sauté pan over medium-high heat, add bacon and allow to cook for 3 minutes until bacon is crispy and light brown in color.
2) Next add chicken thighs and onions and allow to cook for another 5 minutes.
3) Next add smoked paprika and continue to cook for another 4 minutes until chicken thighs are cooked through.
4) Evenly fill each potato skin with chicken and bacon mixture.
5) Top with cheese and place in a 350° oven for about 8 minutes until cheese is melted and potato is hot all the way through.