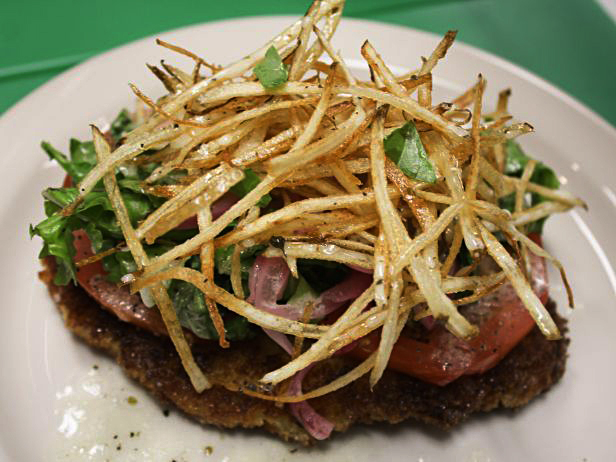 Ingredients
4 ounces chicken breast
Kosher salt and freshly ground black pepper
1 cup all-purpose flour
1 egg, beaten
1/2 cup panko breadcrumbs
3 ounces grapeseed oil
1 tablespoon butter
2 slices tomato
1 cup arugula
2 tablespoons grated Parmesan
1 tablespoon olive oil
1 tablespoon minced onions
1 lemon, juiced
Directions
Lightly pound the chicken with a meat tenderizer until even and thin. Lightly sprinkle the chicken with salt and pepper. Dredge the chicken in the flour. Dip the chicken in the egg, and then coat with the panko.
Heat the grapeseed oil and butter and pan-fry the chicken until golden and cooked through, 6 to 8 minutes. Remove the chicken to a serving plate to rest for 3 minutes. Place the tomatoes on top of the chicken and season with salt and pepper.
In a bowl, toss the arugula, Parmesan, olive oil, onions and lemon juice. Season with salt and pepper. Place the salad on top of the tomatoes and serve.