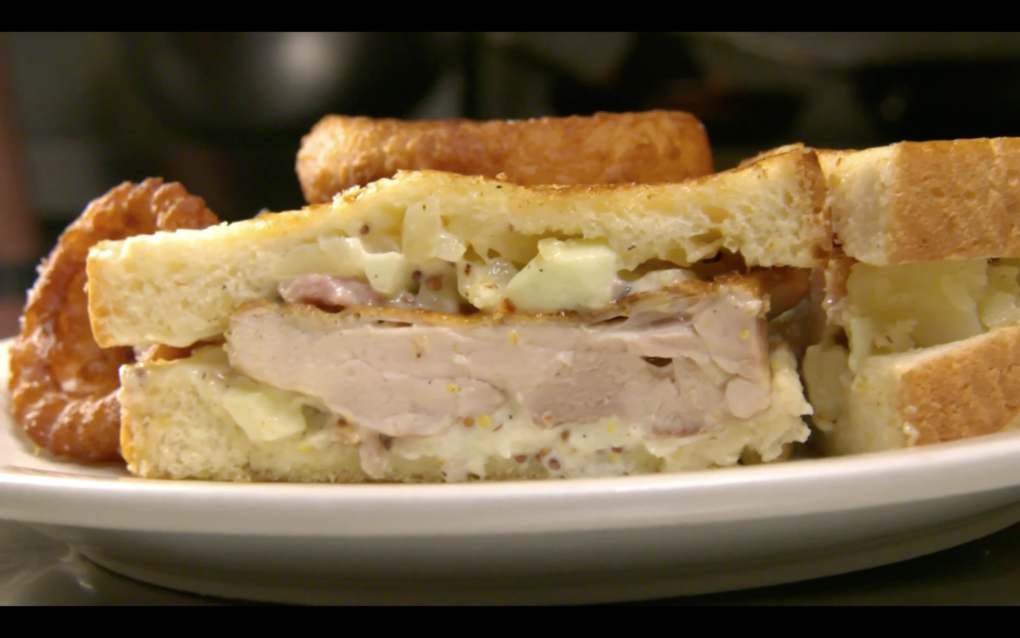 Chicken and Apple Aioli Sandwich – As Seen on Restaurant: Impossible Revisited
From the episode, "No Laughing Matter"
SERVES 4
YOU'LL NEED
1 tsp barbecue seasoning
1 tsp salt
1 tsp black pepper
2 tsp light brown sugar
3 tbsp grapeseed oil
4 boneless skin-on chicken thighs
½ cup mayonnaise
3 tbsp whole grain mustard
1 tsp lemon juice
1 gold rush apple, peeled and diced small
4 oz aged cheddar cheese, sliced
1 tbsp butter
8 slices Texas toast (thick slices of white bread to be pan fried in grapeseed oil and butter)
8 leaves red oak greens
MAKE IT
1) In a mixing bowl, add barbecue seasoning, salt, black pepper, and brown sugar.
2) Use this mixture to season chicken thighs 1 hour prior to cooking and place in the fridge.
3) In a separate mixing bowl, add mayonnaise, whole grain mustard, lemon juice, and apples.
4) In a sauté pan over high heat, add 2 tbsp of grapeseed oil. Add chicken thighs, skin side down, and cook for 4 minutes.
5) Flip the chicken thigh and place in a 325-degree oven and allow to cook for 10 minutes. The chicken should be golden brown in color at an internal temperature of 165 degrees.
6) In a sauté pan over medium heat add 1 tbsp grape seed oil and butter, place Texas toast in the pan and toast on both sides. The toast should be golden brown in color.
7) Coat 2 tbsp of apple aioli on both sides of toast, then place cooked chicken thigh on one side of toast, then top with slice cheddar, then red oak greens, then top with the other piece of Texas toast and serve.