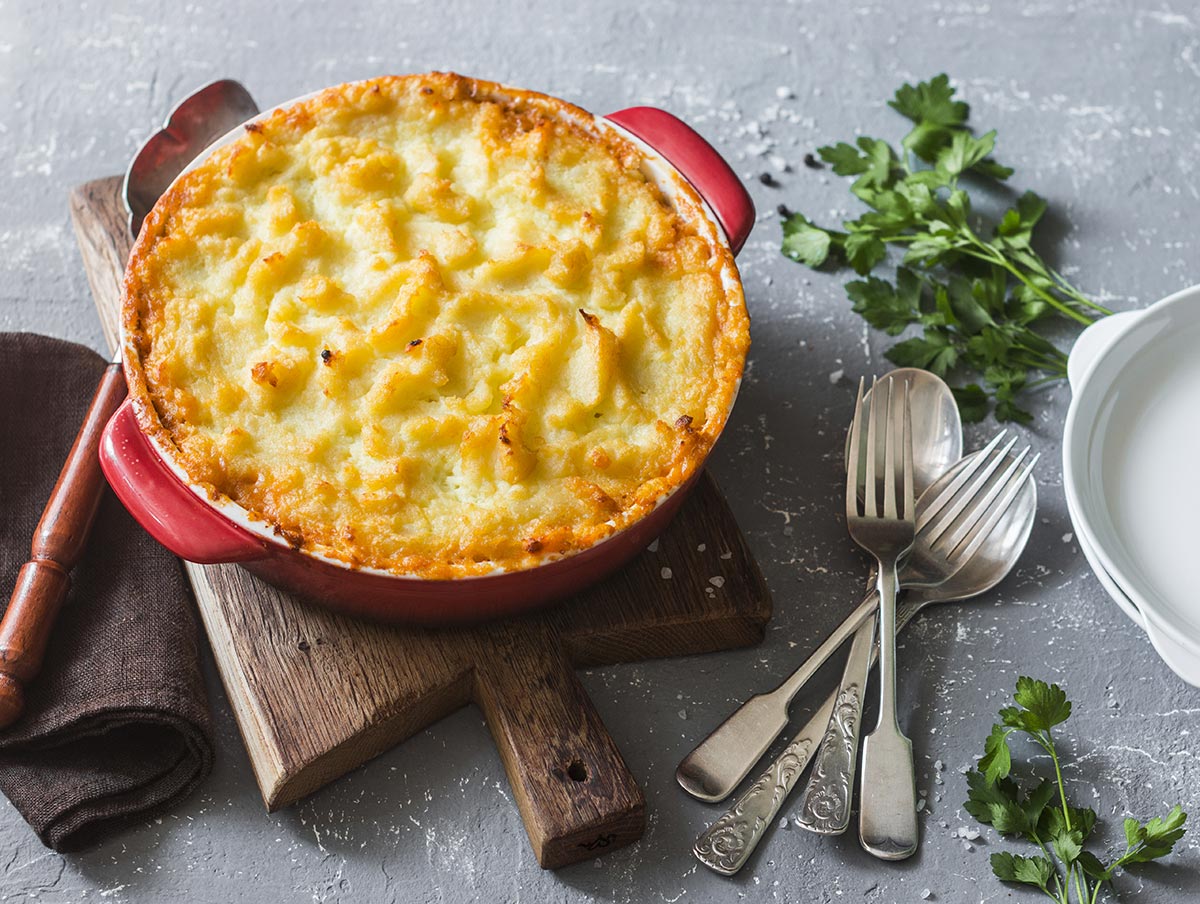 Carnitas Shepherd's Pie – As Seen on Dinner: Impossible
From the episode, "Seventh Inning Stress"
SERVES 8
YOU'LL NEED
FOR THE FILLING
1 tbsp blended oil
4 tbsp butter
¾ cup onion, diced
½ cup carrots, diced
½ cup celery, diced
1 tsp garlic, minced
2 lbs cooked pork carnitas, shredded (store bought)
3 tbsp tomato paste
1/3 cup all-purpose flour
2 cups beef broth
1 tbsp Worcestershire sauce
1 cup canned diced tomatoes with liquid
¾ cup canned corn, drained
¾ cup frozen peas
2 tsp fajita seasoning
2 tsp smoked paprika
2 tsp onion powder
Salt and pepper, to taste
FOR THE MASHED POTATO TOPPING
2 lbs potatoes, peeled and cut in quarters
Water, as needed to cover the potatoes
6 tbsp butter
1 ¼ cups heavy cream
2 egg yolks
½ cup grated parmesan cheese
1 tsp kosher salt
MAKE IT
FILLING
1) In a large pot over medium heat, add the oil and butter.
2) Add the onions, carrots and celery. Stir and sauté the vegetables for 2 minutes until onions are tender.
3) Add the garlic, cooked shredded pork carnitas and tomato paste.
4) Continue to stir and sauté the meat and veggie mixture for 1 minute until well incorporated together.
5) Next, add the flour, stir well and turn the heat down to low to prevent the bottom of the pot from burning.
6) Add the beef broth, Worcestershire sauce, canned diced tomatoes, canned corn, peas, spices. Stir well and turn the heat back up to medium high and continue to stir until the mixture comes to a simmer. Season with salt and pepper, to taste. Set the shepherd's pie filling aside.
TOPPING
1) Boil the potatoes in a large pot in the water over high heat until tender. About 15 to 20 minutes.
2) While the potatoes are cooking, heat the heavy cream and butter together in a separate pot over medium heat till butter is melted.
3) Once the potatoes are done cooking and are tender, drain the cooked potatoes and combine the drained potatoes with the warm cream and melted butter.
4) Using a hand mixer, whip the potatoes until smooth and then slowly add in the egg yolks and the Parmesan cheese and continue to whip the potato mixture for 30 seconds. Season with salt, to taste.
FINISH
1) Preheat oven to 350 degrees F.
2) Place the carnitas shepherd's pie filling into an oven safe casserole dish.
3) Spread the mashed potato topping over top of the shepherd's pie filling evenly.
4) Use the back of a spoon to make peaks in the potato topping and place the shepherd's pie in the oven for 30 minutes or until potato topping is golden brown.