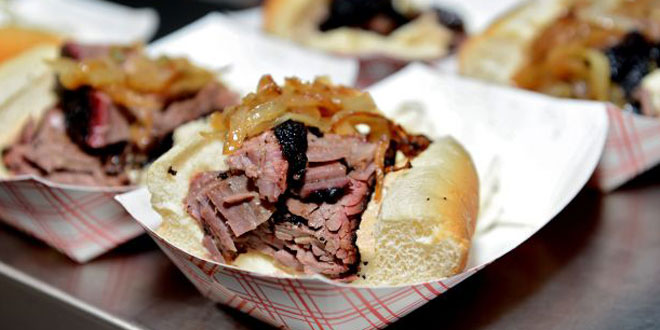 Smoked Espresso-Rubbed Brisket Sandwich
This sandwich recently won the "Best Sandwich" award at the New York City Wine and Food Fest! Give it a shot and let me know what you think in the comment section below. 
Time:  A long time… but it's worth it! 
Yield: 6 servings
Ingredients
For the Espresso Rubbed Brisket:
5 lbs Whole Raw Brisket
2 oz Ground Espresso
6 oz Dark Brown Sugar
3 oz Kosher Salt
1 dash Ground Cumin
2 dashes Garlic Powder
3 dashes Ground Pepper
1 dash Cayenne
2 dashes Ground Cinnamon
For Horseradish Aioli:
1 oz Prepared Horseradish, Drained and Squeezed
3 oz Mayo
2 oz Sour Cream
Salt and Pepper To Taste
For Crispy Pickled Jalapeno:
1/2 cup Canned Sliced Pickled Jalapenos
1 cup Corn Starch
Fry Oil as needed
For Sandwich Assembly:
8 Slices Taleggio Cheese (if not available, substitute Fontina or another semi-soft pungent cheese)
1 tbsp Grapeseed Oil
2 cups Julienned Onions
6 ea Martins Brand Hoagie Rolls
Directions
Mix all ingredients for horseradish aioli and hold in fridge. Mix all of the ingredients for the Espresso rub. Heavily rub the whole brisket and smoke at 225 for 14 to 16 hours until the internal temperature reaches 185 degrees. Hold brisket at 180 degrees until ready to serve. Immediately prior to serving preheat fryer to 350 degrees. Drain jalapenos and pat dry, toss in corn starch, shake of excess corn starch and fry until crispy. Allow jalapenos to drain on a paper towel to absorb excess grease.
For Assembly
Sautee julienned onions until soft and golden brown. Set aside. Spread 2 tbsp of aioli on each hoagie roll, followed by sliced cheese, followed by warm brisket, then crispy jalapenos, and finally sauteed onions.