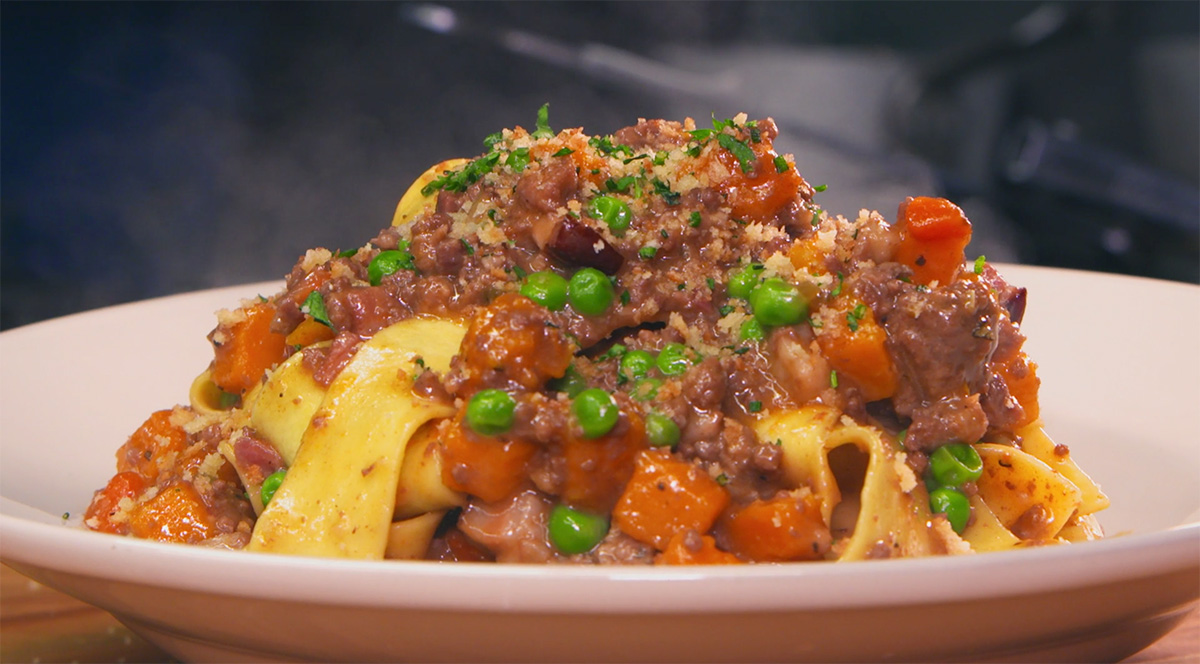 Bison Ragu – As Seen on Restaurant: Impossible
From the episode, "Trick or Treat"
SERVES 8
YOU'LL NEED
FOR THE BISON RAGU
¼ cup grapeseed oil
3 lbs ground bison (ground pork is a good substitute)
1 carrot, diced
1 white onion, diced
3 ribs celery, diced
1 tbsp ground fennel seed
2 tbsp tomato paste
½ cup red wine
3 cups beef stock
½ bunch thyme, picked and chopped
FOR THE PASTA
1 lb butternut squash, peeled and diced
3 lbs fresh pappardelle pasta
8 oz frozen English peas
3 tbsp butter
4 oz Parmesan cheese, grated
4 balls fresh buffalo mozzarella, halved
1 tbsp breadcrumbs
MAKE IT
BISON RAGU
1) In a sauce pot over medium-high heat add grapeseed oil and bison. Use a wooden spoon to stir and break up the meat.
2) Add carrots, onions, and celery and allow to cook over medium heat for about 6 minutes.
3) Add ground fennel and tomato paste. Stir the tomato paste with a wooden spoon for about 3 minutes.
4) Deglaze the mixture with red wine. Cook for another 4 minutes.
5) Add beef stock and thyme. Allow to simmer for 25 minutes.
PASTA & PLATING
1) Pre-heat oven to 350.
2) Place the butternut squash on a baking sheet. Season with salt and pepper.
3) Place the butternut squash in the oven. Allow to cook for about 8 to 10 minutes or until butternut squash is cooked through.
4) Place a medium sauce pot on the stove filled to the top with seasoned water. Bring the water to a boil.
5) In a sauté pan over medium-high heat add butternut squash English peas and butter. Sauté lightly.
6) Ad wild boar ragu to the butternut squash and English peas.
7) Place the fresh pappardelle pasta in the boiling water and cook for about 2 minutes or until the pasta is al dente.
8) Place the pasta into the bison ragu. Cook for another 2 minutes.
9) Place the pasta in a large serving bowl. Garnish the pasta with Parmesan cheese, buffalo mozzarella, and bread crumbs.