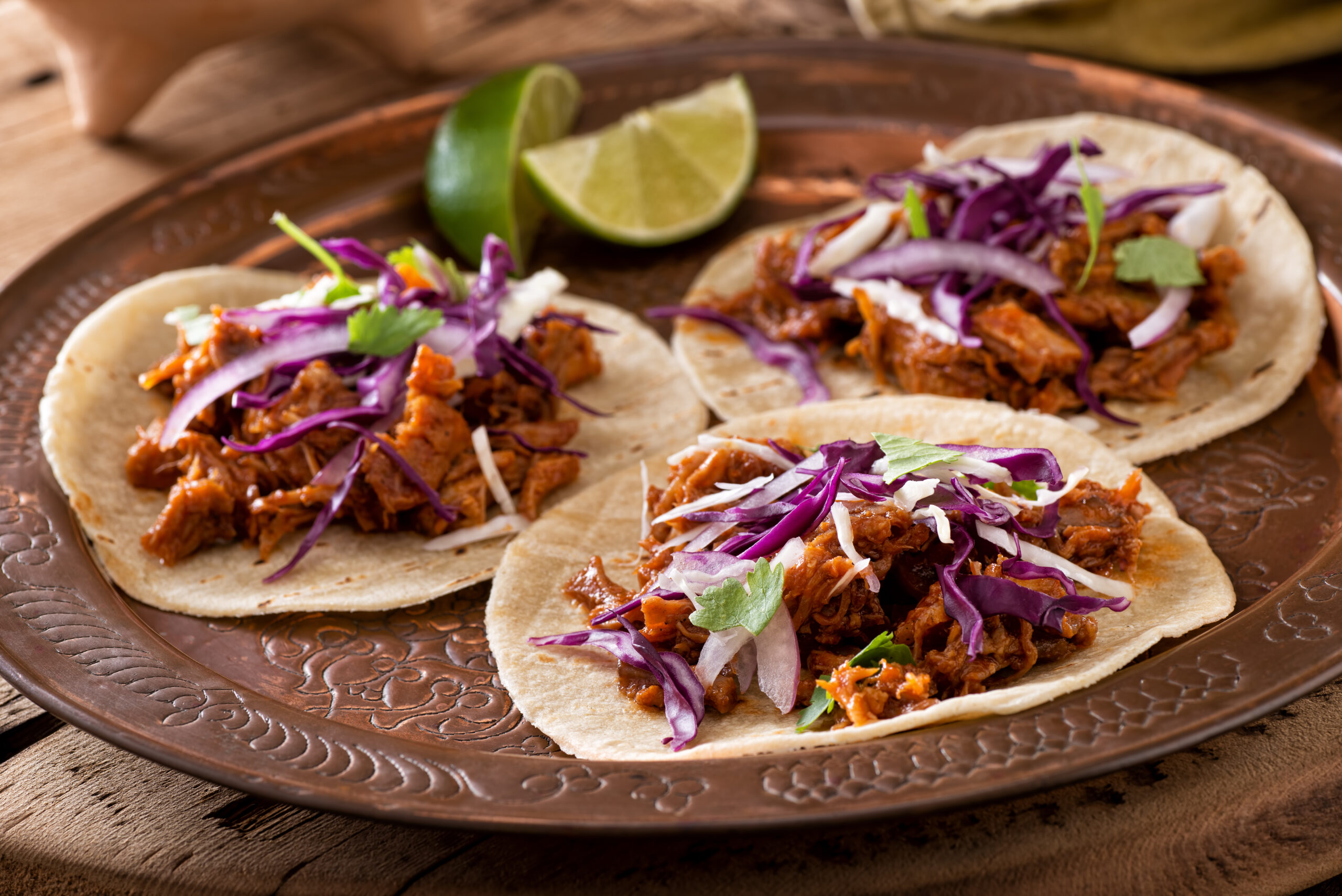 Beef Cheek Tacos – As Seen on Restaurant: Impossible
From the episode, "Fixing a Family in Houston"
SERVES 6
YOU'LL NEED
FOR THE CABBAGE SLAW
1 avocado, mashed
1 jalapeno, diced
2 cloves garlic, minced
1 head red cabbage, shredded
2 tbsp diced pineapple
1 jalapeno, seeded and diced
2 tbsp sour cream
2 tbsp mayonnaise
1 lime, juiced
FOR THE TACOS
4 lbs beef cheeks (Brisket, beef short rib)
1 tbsp kosher salt
3 tbsp brown sugar
1 tsp smoked chipotle powder
1 tsp smoked paprika
1 tsp ground cumin
½ cup grapeseed oil
2 white onions diced
2 carrots diced
5 ribs celery diced
2 cloves garlic minced
16 oz mole sauce
1 gallon beef broth
6 corn tortilla shells
6 tbsp cabbage slaw
6 tbsp Cojita cheese, crumbled
2 scallions sliced
MAKE IT
CABBAGE SLAW
1) Place avocado, jalapeno, and garlic in a food processor. Mix until smooth.
2) Add sour cream, mayonnaise, and lime juice. Continue to mix.
3) Season with salt and pepper.
4) In a large mixing bowl, add shredded cabbage, pineapple, jalapeno, and avocado dressing.
5) Dress with avocado dressing.
6) Season with salt and pepper.
TACOS
1) In a mixing bowl, add kosher salt, brown sugar, chipotle powder, smoked paprika, and ground cumin.
2) Coat the beef cheeks with the mixture evenly and allow to cure for 4 to 6 hours.
3) In a large roasting pan over medium-high heat, add grapeseed oil and beef cheeks. Cook for 4 to 5 minutes on each side.
4) Remove beef cheeks from roasting pan and add onions, carrots, and celery. Cook for 7 minutes until vegetables have some color on them. Add mole sauce and allow to cook for 3 minutes making sure to stir.
5) Add beef broth and beef cheeks back to the pan and bring mixture to a boil. Cover pan and place in a 320° oven for 4½ hours.
6) Allow beef cheeks to slightly cool down in the liquid. Using your hands or a pair tongs shred the cheek meat.
7) Place corn tortillas in warm pan and warm through on both sides.
8) Fill with beef cheek mixture. Top with cabbage slaw and Cojita cheese.