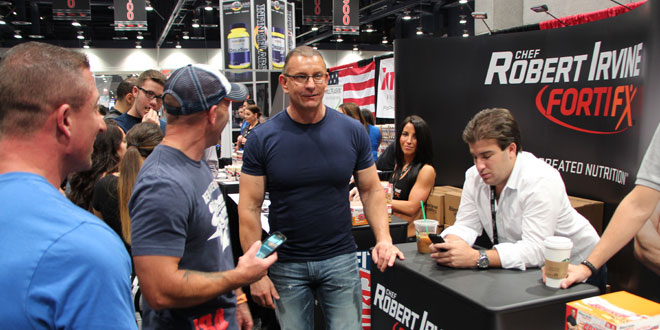 Mr. Olympia Weekend – Fit Crunch
More than 35,000 bodybuilding and fitness fans packed the Las Vegas convention center for the 2013 Olympia Fitness and Performance Expo on September 27 and 28. We could not have picked a better event to launch our Fit Crunch™ baked bars. Our goal was simple, host a Thursday night launch party at one of the hottest bars in Vegas and then spend the following two days making people believe that eating a protein bar can be enjoyable. Impossible? Not when Robert Irvine is the chef behind Fit Crunch bars. We kicked the weekend off at the famous Chandelier bar at the Cosmopolitan with a menu cooked-up by Robert and made complete with a Fit Crunch inspired dessert. On Friday and Saturday we took to the show floor handing out samples and changing the protein bar experience for thousands of bodybuilders and fitness enthusiasts. What happened in Vegas, "won't" be staying in Vegas. Fit Crunch bars are now available at Bodybuilding.com, Amazon.com and several other retail and online retail establishments.
Check out this video from all of our Vegas fun!