How Bikram Yoga can alleviate pain, increase range of motion, foster weight loss, and even ease depression. Sound too good to be true? Just wait til you give it a try.
BY HEATHER QUINLAN
It was a typical week in Maya's life, one week before Christmas in 2010. She was super busy with work. She was running herself ragged trying to keep up with the holiday parties and shopping. And her knee pain that acted up now and then was now a constant. She could no longer run, which she had done for years to relieve stress. On top of that, her lower back pain—a byproduct of sitting all day at work—was making her miserable and she was gaining weight as a result. Her usual cures of popping a couple of Advil or taking the edge off with a glass of wine just wasn't doing the trick anymore. Maya was 46, over-scheduled, overweight, in pain, barely keeping all the balls in the air, and feeling overall depressed.
One night when Maya left her office and headed towards the parking garage to head home, she noticed a sign in a yoga studio window she had always passed and never paid much attention to. It read "Live a pain free life. Try Bikram Yoga, $30 for your first 2 weeks"
At first she shrugged it off, thinking yoga wasn't for her and the idea of a "pain free life" seemed like a lofty promise. Then she remembered the words of a few colleagues and friends who had sworn by Bikram Yoga for years and decided to give it a try. Besides, it was forecast to be 30 degrees that weekend. A hot yoga studio sounded like a good retreat.
Saturday morning Maya woke up bright and early to get to the yoga studio on time. Bundled up in her winter jacket, she walked through the front door and into the lobby. The staff greeted her at the front desk, took her payment and gave her a mat and towel for the class. Maya put her belongings in the changing room and headed to the yoga room in her sweat pants and t-shirt. When she opened the yoga room door it was HOT. She momentarily thought "What have I gotten myself into?" but reluctantly walked in the room.
Moments later, the instructor walked in and began leading the class. For 90 minutes, she bent forward, backward, up and down. She stretched parts of her body that she didn't know needed stretching. Her heart raced at times, which she couldn't understand because she was standing in one spot. It crossed her mind to run out of the room but she fought the urge and tried her best to fit in with what was going on.
When the class ended, Maya laid there in the final savasana, feeling completely wiped out and almost euphoric at the same time. She slept like a rock that night and woke up the next morning with her body craving another class. Over the next couple of months, Maya took class five times a week. Before she knew it, she was back to running without any knee pain. She got back to downhill skiing feeling more conditioned for the sport than ever before in her life and overall, felt full of vitality. A decade later, Maya continues to practice Bikram Yoga and knows it will be a part of her lifestyle forever.
How could this be so? And what makes Bikram Yoga so special? In a nutshell, Bikram Yoga is a type of Hatha yoga, consisting of 26 yoga postures and 2 breathing exercises done in a yoga room heated to 105 degrees and 40% humidity. It is a very specific and highly therapeutic sequence of poses designed to work through every muscle, joint, organ and major gland in your body. It's a yoga designed for everybody regardless of shape, size, age, injury or physical limitation.
And for folks suffering from depression, Bikram might be especially useful. According to Dr. Maren Nyer, the Director of Yoga Studies and the Associate Director of the Research Coordinator Program at the Depression Clinical and Research Program at Massachusetts General Hospital, one uncontrolled pilot study—the first to explore Bikram yoga in a group of people with clinical levels of depression—found promising results.
"In 28 individuals who were asked to attended at least two Bikram yoga classes per week for 8 weeks, significant reductions in depression were found," said Dr. Nyer, who is an Assistant Professor of Psychiatry at Harvard Medical School. "The study noted that on average, [members of the group] only attended 8.7 classes per week over the 8-week period, meaning that these results were found with a lower dose than recommended overall. The practice is challenging, so it makes sense that it is difficult to attend a challenging class especially when struggling with symptoms of depression. However, the study found that more frequent attendance was associated with greater reductions in symptoms."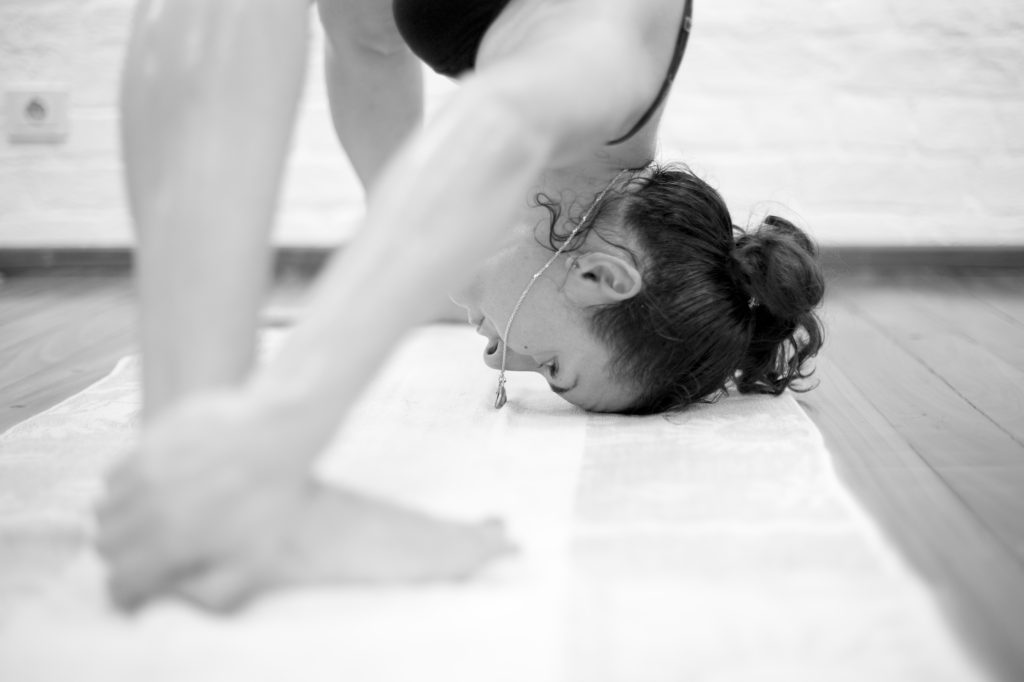 Bikram Yoga was introduced in the US almost 50 years ago, and since then there have been many imposters, mixing up or changing the sequence of postures completely, shortening the class, changing the name. Don't be fooled. There is only one Bikram Yoga. It has stood the test of time and fads, because it works.
Unlike a generic "Hot" yoga studio, you know that every time you go to a Bikram yoga class anywhere in the world, it will always be the same sequence of postures. On a physical level, the repetition of the postures allows the body to really work on building strength, increasing range of motion, and building stamina.
On a mental level, you are able to meditate and quiet your mind because know what's coming next. Those moments of total concentration on one action gives the mind time to disconnect and unplug from your life outside of the yoga room and be stress free even for a moment.
But that's the key. All the little moments add up to be big changes in the yoga room. It's that cumulative effect of Bikram Yoga that quickly improves the quality of life outside of the yoga room.
If you're one of the millions of Americans who are overweight or suffering from an old sports injury or losing your range of motion, then you owe it to yourself to give Bikram Yoga a try in 2020. Maya's story seems extraordinary, but it's actually quite typical for most people who commit. I was one of those people. Will you be one of them?
"Keep it Simple" columnist Heather Quinlan is Robert Irvine Magazine Senior Writer, a certified Bikram Yoga instructor, and owner of BIKRAM YOGA BURLINGTON in Burlington, MA.