From terrible service to haphazard book keeping to microwaved food, Gigi's Music Café found itself on the brink of disaster. Even Robert wasn't optimistic in his initial assessment. But with a few changes—behind-the-scenes and to the aesthetics—Gigi's is thriving today. Here's how Robert helped make it happen.
BY MATT TUTHILL
Looking back at the Gigi's Music Café episode of Restaurant: Impossible and the first thing that jumps out is the fact that from the opening scene, Robert is not a happy camper. As owner Gigi Brown and her daughter, Semone Brown-Mobley, spilled details on their operation, Robert's mood worsens. It's not hard to understand why: not only were Gigi and Semone were losing money when he came to visit them in 2015, but they didn't even know their food costs, and they had expanded their business before knowing if they could sustain the larger space. What's worse, the restaurant was a part-time interest for Gigi; her full-time gig was as an accountant, yet she didn't keep the books at her own restaurant.
"This frustrates the living daylights out of me," Robert said.
Gigi remained upbeat during the initial meeting, telling Robert and Semone, "It's gonna work out."
Robert snapped, "How do you know it's going to work out? It hasn't worked out in three years. Do you have a crystal ball?"
"I wouldn't say I was upset," Semone says today. "I would say at this point that I appreciated his attitude and his anger, because that's what we needed. I think we needed a reality check and that's what he was giving us."
SERVICE FAILURE
As Robert took a closer look at Gigi's, he decided not to sit for a service and try the food the way he normally would. In this case, he didn't need to. The biggest problem facing Gigi's was glaring: service was abysmal. One server named Caesar took orders from all of his tables on one trip through the dining room, then dumped those orders on the kitchen at the same time. Chaos ensued. Hot food wouldn't make it out of the kitchen in a timely fashion, either, and would require the server to microwave it before it went out to the tables. Robert reprimanded Caesar and got pushback. By the end of the episode, Caesar gave the appearance of having changed, but he's no longer with Gigi's.
"Terrence, one of my cooks, is the only one still here," Semone says. "We fired 10 to 12 people since Robert was here. I think me and Gigi learned to stop giving so many second chances. … We had to start hiring and firing when it wasn't working."
RENOVATIONS
Robert's designer immediately took issue with the vibe at Gigi's. The stage for live music was a good idea, but the exposed wires and plywood were a bad look. As was the chintzy "VIP" lounge and the graffiti on the walls. The bar and countertop were the center of the room, but lacked any compelling features. Among other key changes, Robert's builder Tom Bury got to work on a distinctive wooden wine rack that would live behind the bar and reach up to the ceiling.
According to Semone, the restaurant is unchanged since Robert and the R:I crew left town.
"We genuinely loved everything they did," she says. "The restaurant is pretty much the same since they left. There have been some very minor changes, Gigi might have hung up a picture or two here or there, but that's it."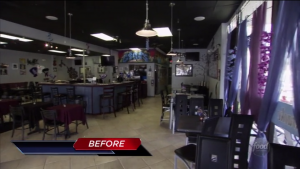 MENU CHANGES
Robert didn't consider Terrence a bad cook, but with speed being a prohibitive factor at Gigi's Music Café, he introduced a slew of menu items that would take less time to move from the kitchen to the table, like thin cut pork chops that cook faster, and other assorted comfort foods like meatloaf and macaroni and cheese. Sides like string beans would be pre-blanched to cut down on cooking time as well, And Robert's biggest pet peeve, the microwave, was banned from regular use.
"We only got rid of two things that I can think of," Semone says. "We did a menu review with Sysco maybe six to eight months after Robert left and we got rid of some of the things that just weren't selling and put back on some of Gigi's favorites, like chicken wings, that we had before. Otherwise, we pretty much kept everything Robert had showed us with the same recipe and cooked the same way."
EMOTIONS
With the unique challenges facing Robert and his crew came some uncomfortable conversations. At the time of filming, Semone wasn't being paid a salary for her work; her mother was simply paying her bills as compensation. When Robert broke down Semone's hours versus the amount Gigi was compensating, it worked out to a paltry six bucks and change per hour.
"I do get a salary now," Semone says. "I don't work hourly; I couldn't even tell you how many hours I work, but I do get a salary and I'm happy with that."
To illustrate the number of problems facing the restaurant and the amount of pressure that Gigi was placing on her daughter by leaving full day-to-day operations in her hands, Robert conducted a unique exercise. He put Semone and Gigi in a row boat which Tom Bury had drilled full of holes and plugged with wine corks. He then floated mother and daughter out into a nearby stream and told them what each cork represented: buying a restaurant with no experience; expanding the business before it was ready; not know food costs; using a microwave in the kitchen, and so forth. He then instructed Gigi and Semone to remove the corks one by one. As the boat took on water and began to sink, they got the picture: until every issue was addressed, they wouldn't be going anywhere. Robert was stern to both of them throughout the episode, and the tears flowed.
"In the episode, I obviously cry like ten times," Semone says. "But I cry not because of anger but because I didn't want to hear anyone upsetting my mother. Him talking to me like that was okay. I could deal with that. But then when it came to my mother it was like I wanted to slap him for talking to her like that you know? As much as she's my mother, she's supposed to protect me, I always want to protect her too."
By the end, they were both crying, but not out of sadness. The new restaurant and perspective that Robert delivered was beyond anything they had expected. Had Robert not answered the call to come to Gigi's, Semone says it's unlikely they'd still be in business.
"I don't think we'd be here," she says.
What's more, Gigi says they've not only been able to sustain the initial surge of new customers that came in—as is typical after an episode of Restaurant: Impossible—but they've been able to build on that momentum. She says the immediate influx was a 10% increase in revenue, but today they generate 20% more income than before they did the show.
"I think if we were still in business it wouldn't be a good situation," Semone says. "It was definitely a great experience. It was eye-opening. It was a reality check. It was life changing."