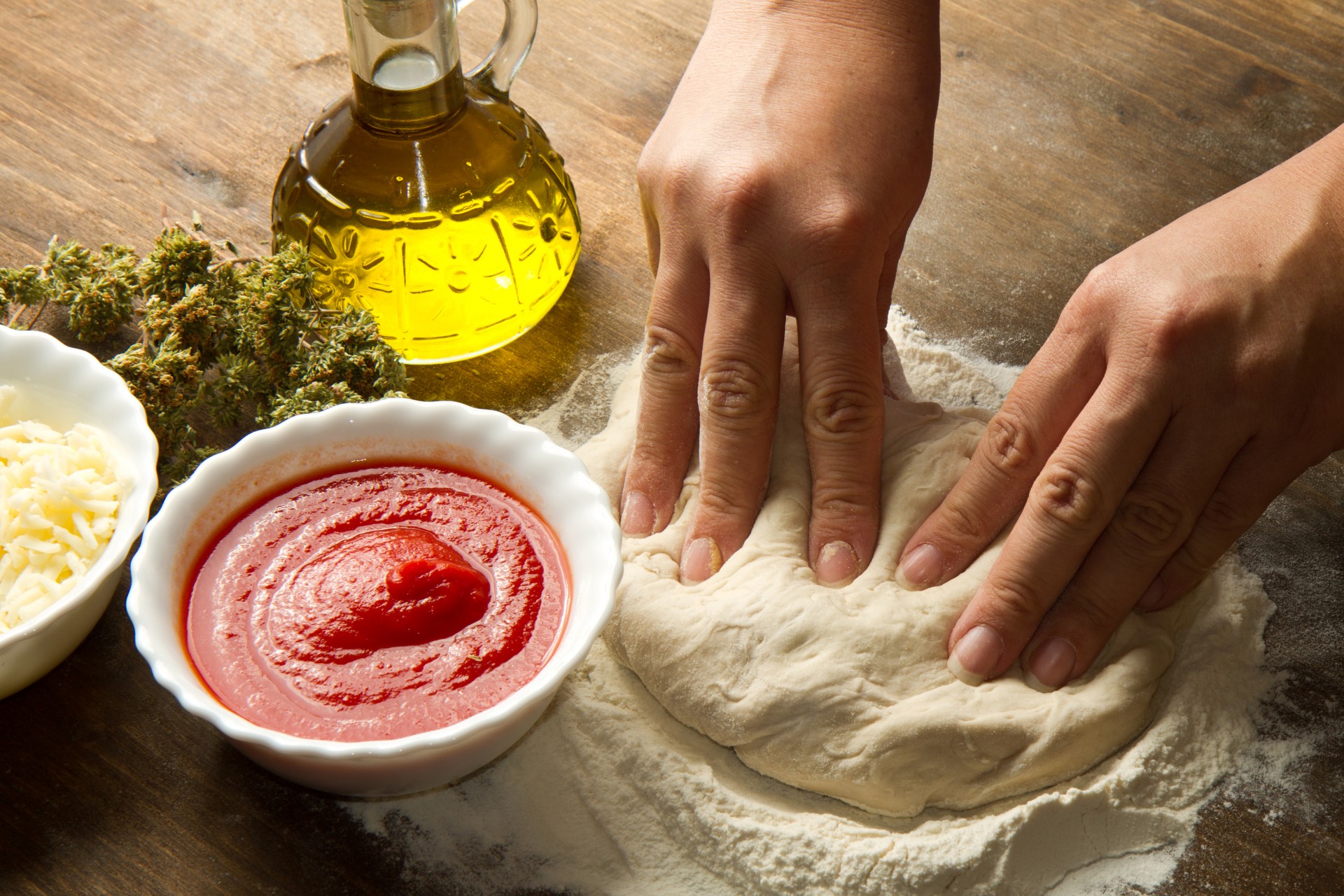 NEAPOLITAN-STYLE PIZZA DOUGH
(Prepare the day before you make pizza)
YOU'LL NEED
¼ tsp dry active yeast
1 ½ cups water at 105°
2 tsp extra virgin olive oil
2 tsp sea salt
4 cups "00" flour*
*Italian milled flour
MAKE IT
1) In a small bowl add the yeast to the warm water and proof for 10 minutes. Yeast should dissolve into a soft, frothy paste.
2) In a bowl of a stand mixer with a dough hook add the flour and the yeast mixture together for about 2 minutes on low or until the water is absorbed. Knead on medium-low speed for an additional 10 minutes until the dough pulls away from the side of the bowl.
3) Cover the bowl with a damp kitchen towel and let rest 5 minutes.
4) Knead again on medium-low speed for another 10 minutes until the dough is smooth and warm to the touch.
5) Place dough in a bowl that has been lightly coated with olive oil, roll the dough so its covered with the oil. Cover the bowl with plastic wrap and refrigerate overnight.
6) The next day, punch down the dough in the bowl, fold over the sides into the middle and turn the dough over, cover and refrigerate for an additional 5-24 hours.
7) When ready to use, remove the dough and cut into 4 portions, placing it on a floured work surface. In your hands, fold over the corners and form a smooth ball, place each ball on the floured surface, cover with a damp kitchen towel and let rise until it doubles.
8) Once proofed, pat down the ball from the center and roll out to desired thickness and size.
OR… MAKE IT (Without the electronic mixer)
1) Combine yeast with warm water, oil and salt in a bowl and let it bloom for 5 minutes.
2) Add half the flour and mix until well incorporated, then the other half mixing thoroughly with your hands. Take this mixture out of the bowl and place on a lightly floured work surface and knead it for 7-10 minutes, add flour as needed until you get a smooth dough. It should not be sticky.
3) Follow steps 5 through 8 in the instructions above.
Originally published in Robert Irvine Magazine.