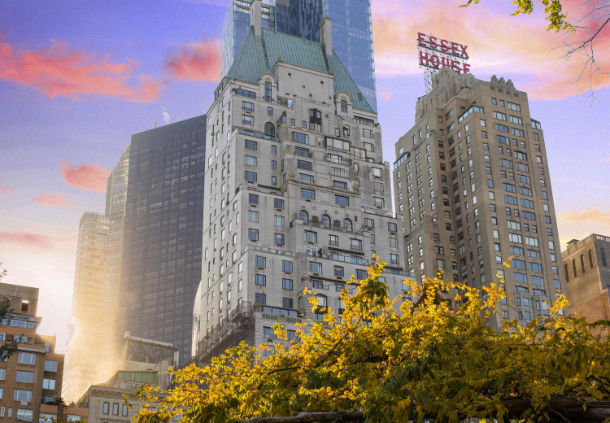 The Big Apple offers endless dining and tourist attractions. So what does the world-weary traveler recommend when you're in town? These picks meet Gail's seal of approval.
BY GAIL KIM-IRVINE
When you decide to make recommendations for what to do in one of the busiest cities in the world, you don't make recommendations lightly. These picks are based on my experiences in NY. Of course I haven't been everywhere in the city—you could literally eat out every day for years and eat at a different place every time—but these are the places are all leave a lasting impression and will make you want to come back for more. Speaking of coming back for more: I'll be back to write NYC Part 2 later in the year.
HOTELS:
JW Marriott Essex House
160 Central Park South
Essex House is an iconic New York City landmark, retaining the vintage rooftop sign that bears its name (see below). Robert and I love this hotel not only for its luxurious rooms and stellar service but also for the convenient location. Located right across from Central Park and Columbus Circle, shopping and great restaurants—and the heart of Central Park, are just a few short steps away.
Gansevoort Hotel Park Ave.
420 Park Ave.
I love this hotel for the extra spacious rooms and amazing service. They have an incredible
rooftop bar that offers picturesque views of the city, and the Exhale Spa where they offer the best spa services including fitness classes such as barre. This Gansevoort location is also just a short walk from Broadway, making it the place to stay if you plan on taking in a show.
RESTAURANTS:
Best Steakhouse: Keens
72 West 36th St.
It was tough to pick between Spark's and Keens but I would give Keen's a slight edge. It's cool to walk in and see all the pipes on the walls and ceilings; this is actually the largest collection of churchwarden pipes in the entire world. It's a tradition that dates back to the 1700s when English travelers would check their pipes in and out at their favorite inns. This restaurant has a lot of history and is well known for their mutton chops (which I've actually yet to try because the steaks are so good) but everything on their menu is fatnastic. You will most likely leave with a doggy bag.
Best Italian: Cafe Fiorello
1900 Broadway
Located in Columbus Circle, Robert and I had one of our first dates here and it left me with the most wonderful memories of falling in love and incredible food. Everything I tried here was a delight, from the veal to the pizza.
Best Asian: Morimoto
88 10th Ave.
Did you really expect me to pick anything else? Morimoto never disappoints. EVER. The food is not only amazing but the decor is breathtaking. Sounds strange, but make sure you go and see their gorgeous restrooms. Yes. Restrooms. I would recommend any of his fish dishes from the sashimi to miso cod and especially his tableside tofu.
Other Tourist Tips:
Go see a Broadway play. I highly recommend Wicked and Book of Mormon. Even if you're not a lover of theater, Broadway has the best shows in the world. See one and the chances are you'll be hooked. Don't rent a car. Take the subway. It's a faster, cheaper, and easier way to travel. Ubers and taxis are everywhere.