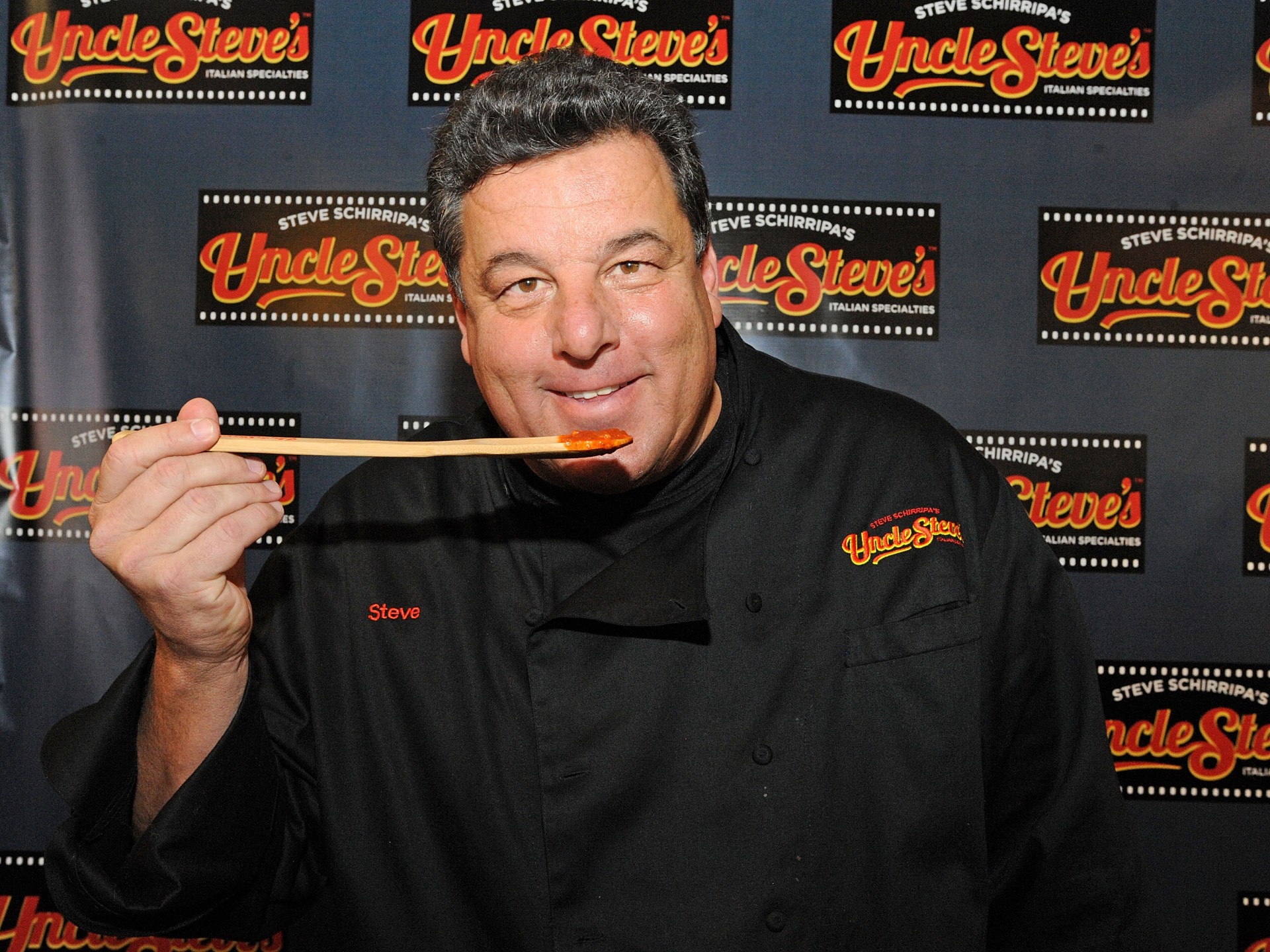 Celebrity Spotlight: Steve Schirripa
Steve Schirripa's acting career turned out better than he could have ever imagined. He has 75 credits to his name and is currently starring in the hit show Blue Bloods on CBS. Later this year he'll appear in the Woody Allen film Wonder Wheel alongside Kate Winslet and Justin Timberlake. But for all his regular work, he is still best remembered for playing Bobby Bacala on The Sopranos. Schirripa sat down to talk with RI Magazine about family, food (he has his own line of tomato sauce, Uncle Steve's), and being a part of one of the greatest TV shows of all time.

BY MATT TUTHILL
Robert Irvine Magazine: We just sampled some of the sauce and it's incredible. When did you get into the food business?
Steve Schirripa: I guess about two and a half years ago. It was my mother's recipe. We made it organic, we made it gluten free. We made it healthier. We made it better. It's all organic, it's non-GMO. There's tomato basil, arrabiata, and marinara. We're in about 3,000 stores across the country. It's growing every day. Soon we'll be in Fresh Direct. If you taste the sauce, I honestly believe you've become a customer. I eat it, my wife hasn't made sauce in a year. A lot of people don't like the stigma of jarred sauce, myself being one of them, but if you didn't see the jar here you wouldn't know it came out of a jar. It's that good.
RI: I read that one of your favorite memories is Sunday mornings growing up in Brooklyn, waking up to the aroma of your mom cooking sauce for that night's dinner. Did she teach you how to cook?
SS: No, not at all. I'm not a cook, I'm not a chef. But growing up—which unfortunately people don't do as much every Sunday was like Thanksgiving. My mother would cook, or my grandmother, and everyone would go over to my grandmother's—my aunts, uncles, cousins. You would eat at 2:00 in the afternoon; all the food would roll out. You'd start with the antipasto, and then you have some pasta, and then roast or chicken. And then out comes the comes the cookies, the desserts. And then at 6:00 they bring the food back out and you eat again. It's quite amazing, but that's how it was when I was growing up. People don't have time anymore for that, unfortunately. You've got kids, both parents are working, and then soccer, and little league, which is why a sauce like this is just perfect because you boil some pasta and you get one jar and you've got a meal for four.

RI: That's true. It goes right into my next question. The next generation, millennials, they're not really cooking at all. One study shows that they don't even want to eat cereal because that creates dishes. They want everything to be in a package that they can dispose of as soon as they're done. Looking at a trend like that, if we do become this fully automated culture where virtually no one cooks, what do you think we've lost as we get away from the kind of family setting that you just described?
SS: I think that's a big thing, and unfortunately people, whether it be younger kids or whatever, even if you go to a restaurant, you see them on their phones. You've got four people at the table, and all four of them are texting different people. My daughters are a little older now, but I absolutely refused to allow that to happen since they were little. Even now, I would tell their friends that there's no texting at the table when we're eating. Just sit down with the family.
And listen, the times are tough. The mother used to be home when you came home from school. Now, unfortunately, because of the way the world is, both parents gotta work. There's no time for that, the mom doesn't have time to cook, and everyone's doing their own thing. And I think it's certainly a breakdown of sorts that's happened, but I think it's been going on for a number of years now. The millennials seem to be a little bit of a wacky group. They've got a lot to learn, I think. I personally find social media helpful, but only to a degree, you know?

RI: Of course. It's not everything.
SS: In the old TV shows or movies, the teenager was always on the phone talking, tying up the phone line. I wish they'd do that. I actually tell my daughter "Instead of texting, why don't you just talk to your friend?" Get on the phone and talk. And you know what's happening, they're missing some social skills, some people. Because they don't want to have any contact.

RI: Do your kids cook?
SS: They do. They're 21 and 25. My wife's a really good cook and she taught them. My daughter made chicken parm with the sauce last week as a matter of fact. But one daughter's away at school and she cooks there. And my other daughter lives here in Manhattan and she finds time to cook. My wife is Mexican-American so she makes some Mexican food. Having the sauce gives you a lot of opportunities to try different things. They make chili, and turkey chili, and my wife eats organic which is part of the reason we went organic. You can make tomato soup, stuffed peppers. My daughters actually made Bloody Marys with the sauce.
And look, not unlike the millennials, I don't like cleaning up, especially when I'm by myself. My wife is in California as we speak, so what I do is I'll buy tilapia, or some basa fish, I'll buy some calamari, and I'll cut it up and I'll just put a jar of sauce in the pan and I'll put the fish in. 15 minutes later you've got a terrific white fish, and with the sauce it's terrific.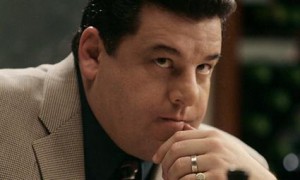 RI: Do you have to cut it up first?
SS: Well, no, tilapia usually comes in … it's a soft fish, I'll buy a pound of tilapia, maybe it's three pieces, and I just lay it in. And then the calamari I'll cut it into rings because it comes in long tubes. Or I'll get shrimp. It cooks right in there.
RI: You wrote a book called The Goomba Diet.
SS: It's a diet of good living, that's what that was. It's not a "diet" book. It was a tongue in cheek, the "Goomba Diet". I just lost twenty pounds by eating the fish the way I just described, but it's not a diet book. (Laughs)
RI: You've played dozens of characters since appearing in The Sopranos as Bobby Bacala. You're on another hit show, Blue Bloods, right now. But because you played a memorable character on one of the best TV dramas of all time, people must still come up to you on the street and call you Bobby Bacala. Does that bother you or is it a positive?
SS: Listen, it was my first big job and it's one of the greatest TV shows of all time. I have absolutely no complaints, that's just the way it's going to be. You're in people's living rooms every week. Millions of people are watching the show all over the world. It doesn't bother me when people call me that. And I know some actors, even on the show, they get annoyed at that, but this is what the people know. You can't get mad.
It was a moment in time, literally once in a lifetime. It's not going to come along like that again, where everything just clicked. Everyone on the cast became friends. Fans talked about the show every Monday morning. I don't know any other show where every Monday on the radio, on TV, everyone was talking about it. There were Soprano parties; people were watching it 20 people at a time. I don't know a show before or since that's brought people together that way.
People say, "You got type cast." Well, honestly, it's better to be type cast than not cast, you know? I was working a regular job, I was an entertainment director at the Ribeiro Hotel in Las Vegas. I was dabbling in the acting, a couple lines here, a couple lines there. I go on the audition, I get the role of Bobby, and the next year they make me a series regular. It really was like hitting the Lottery, because it's hard enough to get on any show, and you can tell that to any actor, but to get on that show, and then to have a big role in it …
So, I'm always gonna be known as Bobby. And I think Jim is always going to be known as Tony Soprano, and Michael Imperioli is always going to be Christopher.

RI: You also played one of the few sympathetic characters in the show.
SS: Yeah. Bobby was a good guy. He was born into it, I think we made that distinction. His father was a wise guy who wanted a Falco Jr., so he just kind of moved into the spot. I don't think he was as viscous, he only killed the one guy, and that was because Tony forced him to. He loved his wife, he loved his family, so I think he was one of the good guys. At one point they said he was the only guy without a goomar, he was loyal to his wife.
I went to read for the role, I didn't know much about it, I wore a fatsuit for a couple years. There was a lot of fat jokes, when I got the script, and I remember reading it and saying to my wife "I'm not that much bigger than Tony Soprano! Did they cast the wrong guy?" A couple days before, they told me I had to come in and get fitted for a fat suit. So I wore one the first two seasons. And then I guess they must have thought I was fat enough on my own, I don't know. At some point, the third season, he said "You don't have to wear it anymore."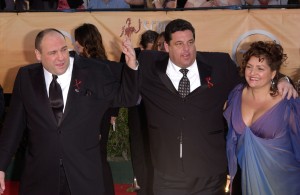 RI: How did you feel about the final scene, how it all wrapped up?
SS: Well, I knew it was coming. I had read it … It was the only time that we had ever watched the show together. It was nine of us, and we watched it in Florida. There was a big event that we were invited to. Even having read it, at first I was kind of stunned. Then when I watched it again, I really liked it. And I haven't watched it in a long time, but there was some really good stuff in there. Really good stuff. I think it was a great ending, I don't know how else you could have ended it. You know, people were disappointed, and people were "oh, Tony should have been killed." I mean did you really want Tony to be killed? Did you really want the daughter to be killed? Did you really want any of that?

RI: To me it didn't matter if he died. Either way, life as he knew it was over. He was going to be looking over his shoulder for the rest of his life.
SS: I think, personally, he's alive, and life moves on and what you saw is what you saw, you know. I thought it was kind of brilliant. To this day, like I said, the show ended 10 years ago, somebody's always talking about it, always asking the question. Being on the show in 2003 and 2004 when things were red hot, it was like playing for the Yankees. Wherever you went, people stopped you in the street. If we went to the restaurant together, we'd get standing ovations. It was something, it really was something.

RI: You're in an upcoming Woody Allen project, Wonder Wheel. Is there anything you can share about that?
SS: I don't really know what it's about, because I never really saw the script. I am a long time Woody Allen fan from when I was in High School before I ever even thought about acting. It takes place in the 50's in Coney Island, and it's Kate Winslet and Jim Belushi and Justin Timberlake and Juno Temple, Toni Sirico—Paulie Walnuts—is in it. Other than that, I only know the scenes that I was in… It should come out this year.