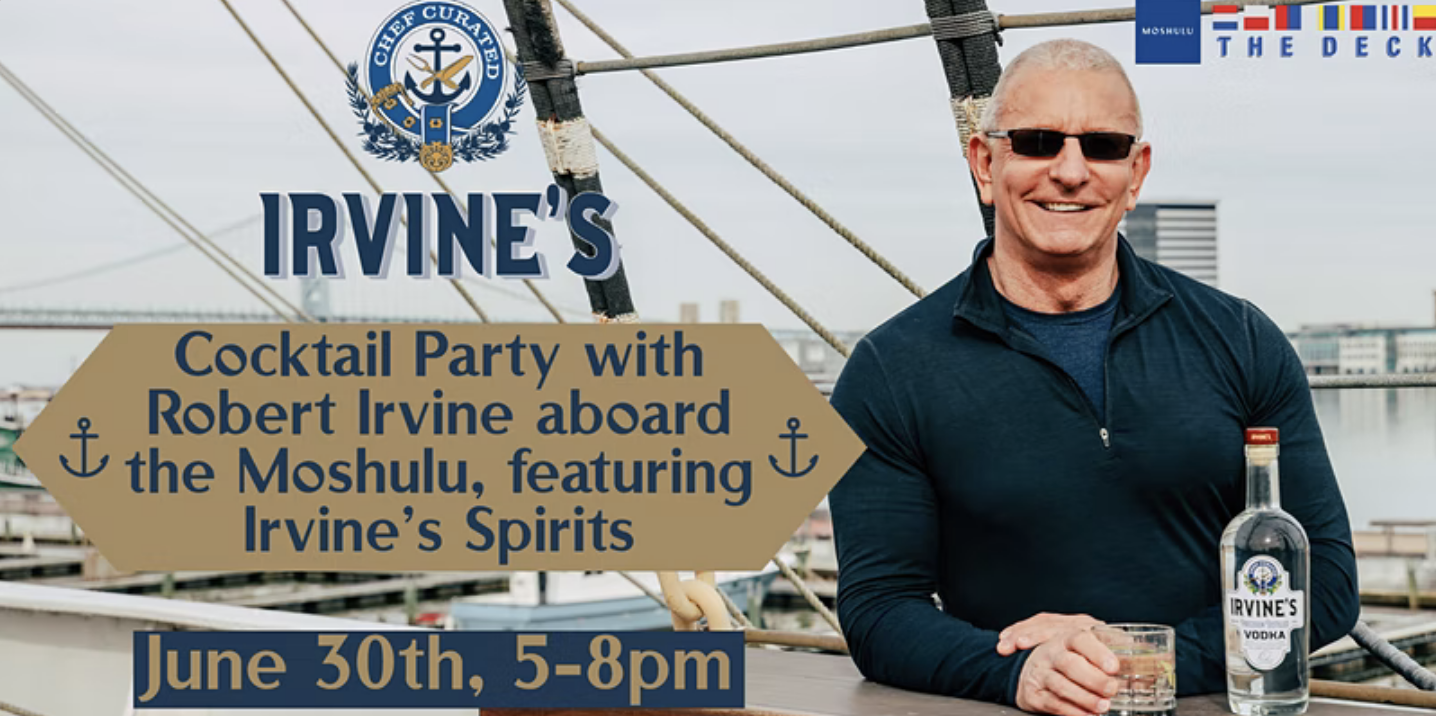 Cocktail Party with Chef Robert Irvine
June 30, 2022 @ 5:00 pm

-

8:00 pm
Join celebrity chef Robert Irvine aboard the Moshulu for a cocktail party, featuring Irvine's Spirits!
About this event
Things will be shaken and stirred aboard the Moshulu when world-class chef, entrepreneur, and host of Food Network's hit show Restaurant: Impossible Robert Irvine debuts Irvine's Spirits at The Deck at the Moshulu.
"You shouldn't have to be rich to enjoy a little luxury," Irvine says. "Every morning, you get up and give it your best. At the end of the day, you deserve the best in your glass."
Irvine will mingle with guests while they enjoy cocktails and small bites. Tickets are $25 and include one of four signature cocktails created using Irvine's Spirits, produced in nearby Lansdale in a partnership with Boardroom Spirits. The Moshulu was the backdrop used by Irvine's Spirits for their website, and will be one of the first locations to offer this chef-curated product created to be paired with food. The cocktails include Irvine's vodka-based Lucky Lady and the Razzule, and Irvine's Gin-based Drunken Watermelon and Passion Punch.
Moshulu Executive Chef Anthony Bonett and Irvine's culinary team have created small plates perfect for pairing with the cocktails of the night. These dishes will only be available that night and include Petite Ahi Tuna Tartar, to be paired with the Drunken Watermelon, Citrus-Herb Pickled Shrimp, paired with Lucky Lady, Charred Hoisin Ginger Spareribs paired with the Razzule, and a Fromage Tasting paired with the Passion Punch.
A portion of the proceeds from all of Irvine's endeavors benefit the Robert Irvine Foundation. Created in 2014, the foundation gives back to servicemen and women, and first responders. Funds raised help at-need veterans and first responders in a variety of ways: training service dogs, making mental health and wellness services available, providing mobility devices for the disabled, and much more. Benefactors from the Foundation will be onsite, and the Foundation will be accepting donations.
Share This!