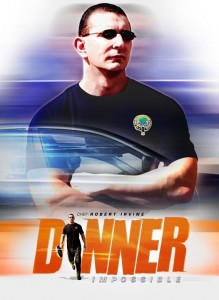 Food Network's Robert Irvine is ready for any challenge – on his popular series Dinner: Impossible. Robert is challenged to overcome culinary obstacles and deliver a delicious meal before his time runs out. With new challenges from this exciting, fun-loving chef, viewers will see if Robert can make dinner, possible!
The show ran for 8 season, with Chef Robert as host of 7 of those seasons. This highly-successful show leaves fans constantly asking if new episodes will ever be created. Robert insists that the stress, both physically and mentally, that he endured during those 7 seasons is enough for one lifetime. However, re-airings of the show can always be seen on The Food Network and The Cooking Channel.
Chef Robert's list of the most insane challenges:
The Ice Hotel. Everything was frozen (including our hands and feet) and we nearly had to quit.
Food Court Fiasco. We worked over night for 12 hours, separated into 7 different tiny kitchens with little-to-no help. It was a logistical nightmare opening up 7 different restaurants all at the same time.
Holiday Hope in Biloxi, MS. We had to cook for over 1,000 people in less than 7 hours!! And the menu consisted of almost 20 dishes. We were there for disaster recovery post-Katrina, but the entire dinner was nearly a disaster within itself.
Mission in the Mud. Cooking a gourmet ($15,000) dinner outside using only camping equipment and a campfire… OH! and don't forget the pouring rain.