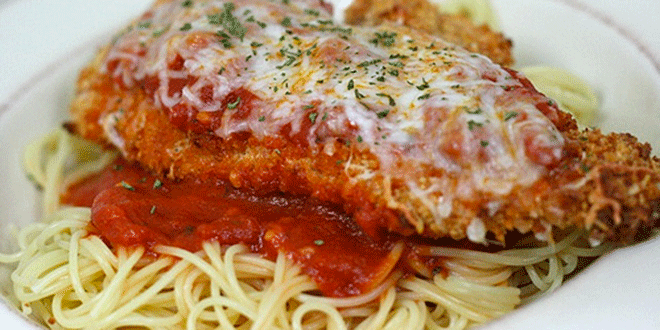 Time: 35 min
Yield: 6 portions
Ingredients
4 cups vegetable oil
Six 6-ounce chicken breasts
1 cup all-purpose flour
2 cups egg wash (equal parts egg and cream)
2 cups Italian breadcrumbs
1 cup shredded mozzarella
1 1/2 pounds cooked spaghetti
1/4 cup grated Parmesan
3 cups prepared marinara, warmed
Directions
To prepare, preheat the oil to 350 degrees F in a large pan. Preheat the oven to 375 degrees F.

Prepare the chicken by lightly covering with flour.
Tip off any excess flour.
Next, dip the floured chicken into the egg wash and then into the breadcrumbs. 
Add the chicken to the oil in batches and cook until golden brown, 6 to 7 minutes.
Remove from the oil and place on paper towels to allow any excess oil to drain.
After draining, cover the chicken with equal amounts of mozzarella and bake until the cheese melts, about 5 minutes.

Meanwhile, add the cooked pasta to a colander and submerge in simmering water to heat, 1 minute.
Remove from the water.
Allow the heated pasta to drain any excess water, and then portion equally into bowls.
Finally, add the cooked chicken atop the pasta. Finish with the warmed marinara and Parmesan. Serve.